What is the Best Chef Knife for Beginner?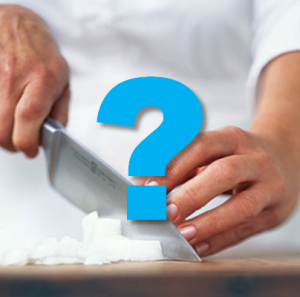 If you're a beginner or just starting out in the culinary world either as a home cook or stepping foot on the ladder to become a professional chef, choosing the best chef knife from the get-go can often be a confusing and daunting task, especially with the vast array of kitchen knives available in today's market.
When starting out you don't really need to invest huge amounts of money on a grade A professional knife. You can get excellent budget chef knives that are an excellent choice for a beginner or home cook.
When purchasing any kitchen knife you still need to make sure the knife is right for you, one knife maybe the best knife for someone but or the other hand might not be the best knife for you. For more details on exactly how to buy the best chef knife read one of our previous articles.
For us there is really only one contender when it comes to picking out the best chef knife for a beginner and it is the Victorinox Fibrox 8-Inch Chef's Knife. This is a chef knife that is often used by culinary students and is found in almost every professional kitchen throughout the world.
We could list out various chef knives and recommend them all but this would just confuse you even more. We are so confident that the Victorinox Fibrox 8-Inch Chef's Knife is the best beginner's chef knife we don't even want to recommend anymore knives.
Beginner or Home Cook the Victorinox Chef's Knife is our Recommendation
The Victorinox Fibrox 8-Inch Chef's Knife is not going to win any awards for the most attractive chef knife but when it comes to an everyday usable chef knife that can tackle almost any kitchen prepping task this wins hands down.
This chef knife has been crafted by the same people who manufacture the Swiss army knife, so you know you'll be getting a knife that is of superior quality.
The blades have been made from high carbon stainless steel and they have been laser tested as well as conically ground for better edge retention.
The handles on the Victorinox chef knife are very practical, agreed they aren't the most attractive, but when it comes to having a functional knife handle you can't beat it. The Fibrox handles are hygienic, slip resistant, and are slightly textured which gives you superior grip especially when your hands are wet.
The Victorinox Chef's Knife has also received the NSF (National Sanitary Foundation) seal of approval for being a very sanitary knife, which is why it favored by culinary students and hotel and restaurant chefs.
Victorinox 8 Inch Fibrox Pro Chef's Knife
Price: $43.90
(5341 customer reviews)
10 used & new available from $43.90
Top 10 Reasons Why the Victorinox 8-Inch Chef's Knife Is the Best for Beginners
Very affordable / low cost
Excellent craftsmanship and build
Razor sharp
Nice rocking action
Hygienic design
Non slip handle
High quality stainless steel
Easy to clean
Dishwasher safe
Lifetime warranty
This Victorinox knife was designed with the restaurant and butchering industry in mind and their looks reflect its functional, no-frills origin.
Best chefs knife for beginners? This is it – hands down!