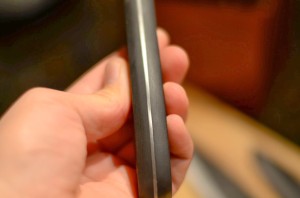 Okay we get it, you've read through our knife review website and you are now eager to run out and buy a new chef knife. But hold your horse's eager beaver, before you go running out the door make sure you follow our below tips on how to choose a good chef knife, you'll thank us for it later.
Since the humble kitchen knife will most probably be used daily its best to invest in a good quality knife that will last for many cooking years. Good quality chef knives will have durability, strength, good handling, and endurance these are just the basics but if you forget about these you might as well forget about the knife.
Unfortunately one size doesn't fit all for the chef knife so finding your ideal knife might take a little time, but don't worry you'll know it when you've found it.
>>Click here to see the latest deals on the best Chef Knives at Amazon<<
How to Choose a Good Chef Knife
6 steps to choosing the best chef knife for you
Hold the knife it won't bite: picking up the chef knife is a must before you pull out your wallet and go running the cashier counter. If you are going to be using this knife everyday you want it to feel conformable and it needs to sit well in your hand. A knife that feels great for one person may not feel great for you, so while advice from friends and family is helpful, always test the knife for yourself.
Buying kitchen knives online is becoming more and more popular due the ease of shopping and the budget prices. Online retail giants like Amazon will let you return your purchases if it is not what you were expecting, so don't worry about buying a knife online.
Feel the weight of the knife: as I mentioned above not all knives are the same; you can find light weight chef knives that are great for speed and precision or heavy knives that require a lot more work to chop light ingredients. There is no one rule for everyone here it all boils down to personal preference. There are people that will say that a heavier chef knife will cut through ingredients easier because it falls down with more force. And on the other side of the argument you'll find people that say a lighter chef knife lets you maneuver the knife more skillfully
Bottom line: Choose the knife weight that feels right to you.
Test the balance of the knife: very much like the weight of the chef knife the balance is very much a personal taste. It's best to test the balance of a chef knife buy reaching out and gripping the knife by its handle. If the knife feels uncomfortably weighted towards the back of the handle or even towards the blade, then that particular chef knife is probably not for you.
When testing your chef knife for good balance you also need to take into account the side-to-side balance. It's pretty easy to test this, when you bring your knife down to your cutting board as if you're cutting a food item the knife shouldn't feel unstable, if the knife feels like it wants to veer off to one side then that knife is probably not a good match for you.
>>Click here to see the latest deals on the best Chef Knives at Amazon<<
One of the problems of having an unbalanced knife is that it will make you work a lot harder and you will find that you will get hand fatigue after using the knife for long periods of time.
Choosing the right size: the most popular size of a chef knife for everyday home cooks is the 8-inch knife, because of its versatility. A 10-inch chef knife can cut a lot more but may feel intimidating to a novice. You can even get a smaller 6-inch chef knife which can offer quite a lot of agility and precision, very much like a paring knife but it is not ideal for bigger prepping tasks like slicing and dicing something large, like a watermelon.
Check the knife handle: most modern produced chef knives have a hard plastic handle that are both hygienic and long lasting. Older knives or traditional looking chef knives tend to have wooden handles. For the everyday home cook a plastic style knife handle is perfectly fine. If you do decide that you want a knife with a wooden handle make sure you look after the handle correctly or you'll find that it won't last long.
The chef knife blade: when it comes to the chef knife blade you tend to get what you pay for. Modern chef knives are generally made out of high quality stainless steel and many of the cheaper knives are stamped out of this. Stamping basically involves stamping out the shape of the knife blade from a sheet of stainless steel.
These knives give a good edge but care should be taken so they will not rust (yes stainless steel will rust). Aim to purchase high-carbon stainless steel knives they won't rust as easy. If you're on a budget an inexpensive stainless steel knife is a good choice.
If you really want to splash out on a good quality chef knife you have to invest in a forged blade. Unlike the stamped blades above forged blades are actually made from molten metal and crated into shape. Forged chef knives are a lot stronger that stamped blades and they hold a sharp edge longer.
In closing, When you know how to buy knives make sure you invest a little bit of money, it's always best to spend a little bit more on a knife that will last for many years then buying kitchen knives that are cheap and will not last no more than 3 to 6 months, you will end up spending a lot more in the long run.
If you're on the fence and not sure which chef knife is right for you we recommend the below
Victorinox 8 Inch Fibrox Pro Chef's Knife in Clamshell Packaging
Price: $44.95
(5211 customer reviews)
8 used & new available from $44.95