How to Care For Wood Handle Knives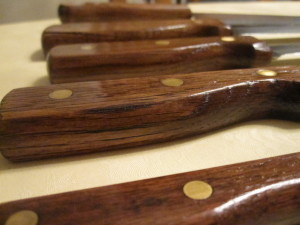 Many of the premium kitchen knives being sold today have wooden handles, and if you're like me they are a must have. There is nothing better than a high quality piece of wood that has a lovely stained and polished wood grain, pair that with the smooth shiny stainless steel knife blade and you've got a winner of a knife that looks both elegant and durable at the same time.
Many of the leading kitchen knife manufactures have taken to adding wooden handle knives to their kitchen knife range of products and you will also find that many of the kitchen knives made in the USA have the traditional wooden handles.
As with all wooden products and furniture the wood is susceptible to splintering, rotting, cracking and other issues if the wood is not treated and looked after properly. Also there are two types of wood handled knives you will come across, there are kitchen knives with wooden handles that have been stabilized and there are wooden handled knives that have not been stabilized.
In laymen terms, a stabilized wooden handled knife has been treated and prepared so that all of the cracks, pores, holes have been completely sealed with a resin substance to make the whole wooden handle waterproof, durable, longer lasting, and generally less likely to warp. – the key to prolonging the life of wooden handled knives is not to get them soaking wet for long periods of time.
Now every so often you will come across a kitchen knife that has not had its wooden handle sealed or stabilized, to be honest it's pretty rare to find a knife that has not had its handle treated in some sort of way. The kitchen knives that haven't had their wooden handles treated will probably crack and swell over time and exposure to water will speed up the actual damage to the knife handle.
>> Click to see reviews and prices on wood handled knives at Amazon <<
However kitchen knives that haven't had their wooden handles treated or stabilized tend to retain more of the more natural wood feel and look.
If you've spent a hefty bit of cash of a good set of wooden handled kitchen knives you'll probably want to look after them so they last for many years to come. Despite the differences in the sealed and non-sealed knives they should both be looked after in the same why, here are some tips you should remember when caring for knives with wooden handles.
Looking After Wooden Handled Kitchen Knives
Don't soak the knife in water: no matter how dirty your knife is never leave it to soak in water in the kitchen sink; this is a recipe for disaster as the wooden handles will soon warp and crack if this is done often.
Wash and dry by hand after use: never leave you wooden handled knife to air dry its always best to hand wash and hand dry after each use, trust me it only take a minute or two.
Don't wash the wooden handled knife is the dishwasher: this is a big NO, never put your wooden handled kitchen knife in the dishwasher, to be honest I wouldn't put any of my best kitchen knives in the dishwasher wooden handled or not. It takes very little effort to wash by hand your premium kitchen knives.
Don't leave you knife in direct sunlight for long periods: leaving your knife on a window ledge or it direct sunlight for long periods of time is going to permanently damage the wooden handles, the Excessive heat can cause the handles to dry out and crack.
It's always best to store your knives with wooden handles in cool and dry areas like in a knife roll or knife bag.
Oil the knife frequently: this is a very inexpensive why to look after your wooden handled kitchen knives. Rub some wood oil onto your kitchen knife once a month – your kitchen knife will love you for it!
If you not sure how to clean your kitchen knife the best way is to hand wash it with a mild detergent and hand dry, if you do have stubborn stains try running the knife under a hot tap/faucet briefly, and rub with a kitchen cloth and then hand dry.
By far one of the best ways to look after your wooden handled knives is to use some sort of wood oil, this oil can actually be used on a variety of other wooden kitchen utensils like wooden chopping boards, wood spoons, and even wooden kitchen table tops.
If you take on-board the above tips on how to look after your wooden handled kitchen knives your knives will last for years.
J.K. Adams 8-Ounce Mineral Oil Wood Conditioner
Price: $8.95
(88 customer reviews)
9 used & new available from $8.95