Kapoosh Knife Blocks Are They Any Good?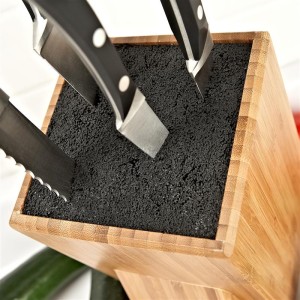 Looking after your kitchen knives should be your number priority, especially if you've invested a lot of money in those quality kitchen knives. Probably the easiest and most common way to damage your kitchen knives is by not storing them correctly in the first place.
There are many ways to store your knives safely and I have covered various ways of storing your kitchen knives in previous articles.
By far the safest way to store your knives (in my opinion) is in a knife roll, this is for me the best knife storage method but it's not for everyone. Using a knife roll doesn't really have the wow factor and if you have a set of expensive kitchen knives like Global's or Shuns keeping them wrapped up in a roll is probably the last thing you want to do.
You can of course opt for a magnetic knife holder the let you store your kitchen knives is virtually any location in your kitchen; under your kitchen counter-top, on the wall, or even on the back of your kitchen cupboard doors, but magnetic knife holders do come with pros and cons and again are not suited for everyone.
Or you can use a knife holder or knife block; knife holders are an excellent way to show off your best kitchen knives elegantly, safely and securely on your kitchen counter top. The problem with knife holders is that you really only tend to get knife holders that are already full of kitchen knives.
What if you already have knives and just want a universal knife holder for those knives? Well I think I've found the answer, I stumbled across the Kapoosh knife block and instantly fell in love with it. The best thing about the Kapoosh knife blocks is that they can hold any type of knife brand, almost any size, and they look really funky on your kitchen counter top.
What Are Kapoosh Knife Blocks?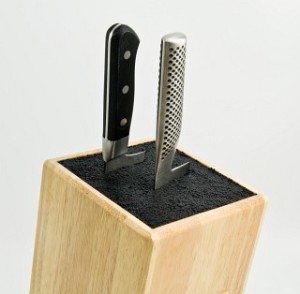 There is a huge difference in how the Kapoosh knife blocks hold your kitchen knives. The Kapoosh knife block lets you place your kitchen knives in the block however you want in whatever size and shape you've got.
Firstly there are no set places to store your kitchen knives the Kapoosh knife block is actually made up of hundreds of black plastic rods.
How the Kapoosh knife block works is pretty simple really; when you place your kitchen knives into the block the black plastic rods part and your knife slides in and it is held securely.
My first thought was when I looked at the Kapoosh knife block was; "well it looks great but how the hell am I going to clean it?"
Cleaning the Kapoosh knife block is really easy, the outer casing slides of leaving just the black plastic rods – it actually looks like a huge shaving brush when it's out of the block casing. You can then place the plastic rod section straight into your dishwasher.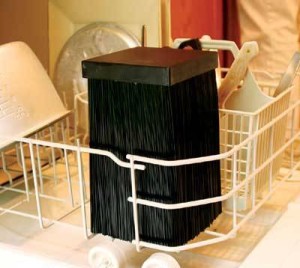 One of my only concerns with the Kapoosh knife blocks is that when you pull your kitchen knives out of the block you sometimes have tiny black bits on your blade.
This really is not a big issue a quick wipe with a kitchen cloth cleans the blade, but it is something you should watch out for when using any Kapoosh knife block.
Overall the flexibility of being able to store any kitchen knife safely and securely and the easy cleaning makes the Kapoosh knife block a no brainer and a must have. Below I have picked out 3 of the best Kapoosh knife blocks.
Kapoosh Knife Blocks My Top Picks
This is the one I have sitting on my kitchen countertop, it really looks great. As with all Kapoosh knife blocks it has no restrictive knife slots and conforms to the unique shape of each and every knife.
The exterior of this Kapoosh knife block is made out of Bamboo so should be able to fit into most kitchen decors.
This really is a great solution for storing any kitchen utensil be-it steak knives, kitchen knives or scissors or spoons!
This Kapoosh knife block is also available in a black outer casing finish which also looks modern and fresh.
This Kapoosh Knife Holder would look great in any modern kitchen – it has a slightly curved outer case that is black in color; however you can also get red and sliver.
The casing has a slight metallic finish to it rather than just a flat black color, it look very similar to a car paint finish.
This Kapoosh Knife Holder as 2 different knife storage levels so you can store smaller kitchen knives or scissor in the lower section and you bigger chef knives and serrated knives in the tops section.
The Bodum Bistro Universal Knife Block has a slightly different look than the above two but the principle is still the same. It utilizes black plastic rods that do not dull your knives when inserting them into the block and they securely hold your kitchen knives and utensils.
This style and brand really seems to be a hit on Amazon with many positive reviews. You can purchase this knife block in 5 different colors, so there should be a color for almost any kitchen's color scheme.
The outer casing of this knife block is made of plastic with a soft touch grip and silicone feet to anchor it to your kitchen counter top.
>> Click here to see reviews, ratings, specifications and prices on Amazon <<