What is the Best Bread Knife?
Almost every kitchen throughout the world has a good quality bread knife or at the very least some sort of serrated kitchen knife that can effortlessly slice through crusty bread.
If you don't own a bread knife then frankly I don't know how you can cut your bread, unless of course you buy it already sliced?
One of the great features of the best bread knives are that they stay sharp for longer, have you noticed that every time you pick up your bread knife its razor sharp? This is to do with the serrated blade and how it has been made; of course it won't stay sharp forever and unlike regular knives which you can normally sharpen yourself at home the serrated blade really needs to be given to a professional for a good sharpening. But if you want to tackle it yourself scroll down to find out how you can sharpen your serrated knife at home.
There are 3 basic types of bread knife; a traditional serrated knife, a Ceramic bread knife, and the modern electric bread knife. All of these are great choices, but your choice will depend on your budget and preference – for us the winner every time is the basic traditional bread knife, keep the electric bread knife for the chefs that bake hundreds of loafs of bread a day.
Well if you looking to invest in your first bread knife or if you just looking to upgrade or replace an existing knife keep on reading through our best bread knife buying guide to help you choose the right knife for you.
Our Recommended Best Bread Knives
Cleaver
Size
Brand
Pricing
Rating
Visit
Cleaver
Size
Brand
Pricing
Rating
Visit
12-inch
Victorinox
Medium

★★★★★

9-inch
Wusthof
High

★★★★★

8-inch
OXO
Low

★★★★

★

8 3/4-inch
Global
High

★★★★★

8.5-inch
Zyliss
Low

★★★★★

8-inch
Shun
High

★★★★★

9-inch
Victorinox
Medium

★★★★

★

8-inch
Pure Komachi
Low

★★★★★

10 1/2-inch
J.A. Henckels
Medium

★★★★

★

9 1/2-inch
Rada Cutlery
Low

★★★

★★
Bread Knives Have Many Uses
Actually a bread knife can be utilized in the kitchen for a range of prepping tasks and it does not have to be used solely for cutting bread.
Try using your bread knife next time you want to cut thin slices of tomatoes, the serrated teeth of the bread knife make cutting tomatoes a breeze.
Don't have a carving knife? Not to worry the bread knife makes a perfect replacement for carving your turkey at Thanksgiving or Christmas.
Have fruit with touch skin, go on try using your bread knife you'll be surprised how it makes quick work or the toughest fruits.
Do you use your bread knife for any other kitchen prepping tasks? Drop a comment at the end of the article.
How to Sharpen a Bread Knife
Like any other kitchen knife bread knives will eventually go dull, for many they just throw the dull knife in the trash and buy a new one. This is mainly due to the fact that most people don't realize their bread knife can be re-sharpened. So instead of throwing out your old knife why not try and sharpen it so it works like it did when you first took it out of the box.
Your serrated knives cannot be sharpened by using the same tools you use to sharpen straight-edged knives, but it is not as hard as you may think it is – just follow these steps.
What You Need:
A honing steel or knife sharpening stick (most of you will have one of these laying around in your kitchen)
A dull serrated knife (that needs sharpening)
A damp cloth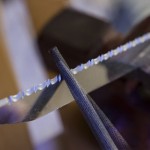 The Sharpening Process:
Wash your honing steel and knife before you start.
Firmly hold your knife in one hand (by the handle) and make sure the teeth are pointing outward to your other hand.
Take your honing steel in the other hand and firmly hold it by the handle.
Now line your honing steel up with the first set of serrated teeth (closest to the handle of the knife).
Slowly pull the honing steel down quickly a few times. Make sure that you are keep the honing steel in the serrated groove for each pass.
Now move the honing steel to the next serrated groove and repeat the above.
Once you have done all of the serrated teeth turn your knife over and repeat the process on the other side of the blade.
Once you have fully done this to all of the serrated teeth take your knife and give it a good wash to remove any loose metal filings – now stand back and take pride it a job well done!
Still a little lost? watch this video
Bread Knife Our Top Picks
We love Victorinox, let me say that again just in case you missed it, we love Victorinox kitchen knives and we have recommended them on almost every review we have done.
This is a basic bread knife but don't let that fool you, it gets the job done with ease. This knife is moderately heavy and it offers up enough rigidity to make straight cuts in the crustiest of bread. And with the slight flexibility that gives you just enough control.
If you are using your bread knife to tackle your home roast the thin tapered, razor sharp blade of the Victorinox bread knife is wide enough to slice through a large roast with one easy stroke.
Anyone looking for an affordable bread knife that is of high quality then look no further – you've found it!
For anyone with a little bit more to spend who is looking for a bread knife that will last a lifetime the Wusthof Classic Serrated Bread Knife is a great choice.
The construction of this knife will impress; this is a well crafted knife that also looks great, is well balanced and has enough weight to tackle the crustiest of breads and big turkeys.
This is a great knife for all amateur chefs as well as professionals. However, anyone with smaller hands may find this bread knife a bit awkward to get a good grip.
Another excellent budget bread knife it may feel a little cheap to the touch but it doesn't slack when it comes to cutting through bread.
Because of its smaller size it is also a great knife for cutting perfect thin slices of tomatoes.
All of the OXO Good Grip range features the durable, flexible non-slip handles with offer superior grip even with wet hands.
It doesn't matter what size hands you have anyone will be able to get a comfy good grip with this knife due to the pressure-absorbing processed rubber handles (which have actually been made from the same material as dishwasher gaskets).
Great budget bread knife!