Pros:
Razor sharp serrated blade that can be used for far more that just cutting your tomatoes. Try using it to cut and prep fruit, it slices and dices fruit with ease.
Cons:
This tomato knife is not really needed in the everyday kitchen and the price is a little pricey for a specialized knife for cutting tomatoes – if you have a good quality Nakiri already that will cut tomatoes just fine.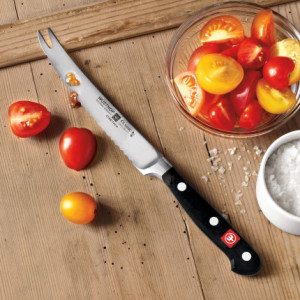 The Wusthof 5 inch tomato knife is a great multipurpose kitchen knife that is designed to cut your tomatoes effortlessly. The serrated knife edge has been made to grab and cut through fruit and vegetable skins and even hard crusts with ease. Whilst the forked end of the knife is ideal for picking up and transferring the food once cut.
All of the Wusthof knives from the Gourmet line feature precision stamped blades that have been manufactured from high-carbon stainless steel that keeps and maintains a razor sharp edge and resists rust and stains.
This tomato knife features high compression rivets that securely hold the high impact handle to the full tang providing excellent maneuverability and great balance. The ABS polymer handle has been specially designed for a smooth comfortable grip and is resistant to high heat as well as high impact which make this tomato knife long-lasting as well as extremely durable.
As with all Wusthof kitchen knives hand washing is recommended, but there is nothing stopping you throwing them in the dishwasher once in a while if they are dried off properly. Also this tomato knife comes with a limited lifetime warranty.
>> Click here to see reviews, ratings, specifications and prices on Amazon << 
Our Verdict:
To be honest you don't need a specialized knife just for cutting your tomatoes actually wrote a full article on the best knife for cutting tomatoes and after trying many I decided that the Nakiri Knives were a great knife for slicing tomatoes thinly and effortlessly.
However if you're a Chef that has all of the other knives in the Wusthof collection then this knife is a must have to complete the range.
As mentioned above this tomato knife can be used for many other kitchen tasks then just cutting tomatoes, but if you love tomatoes and have the money go on get it!
Wusthof 5-in. Gourmet Fork-Tip Tomato Knife.
Price: $39.95
(20 customer reviews)
7 used & new available from $31.99