Pros:
Because of the overall design this knife is very easy to clean, the blade is razor sharp like no other knife we have laid our hands on. It's solid but well balanced; chopping, dicing and mincing are all effortless using this knife. The VG-10 super steel keeps its finish and does not scratch or dull.
Cons:
This Usuba Asian knife may be a bit pricy for the everyday cook or home chef. Special care should be taken with this knife when cleaning it – this is not a knife you just want to throw in the dishwasher.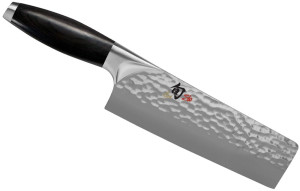 The Shun Edo Usuba Knife is a traditional looking vegetable knife primarily used by the professional Japanese chef but more recently these knives have been appearing in the modern western kitchen.
Usuba knives are designed and shaped for power and precision chopping and dicing vegetables with ease, while preventing vegetable skins from tearing or cracking.
The height of the blade on this Usuba knife allows for knuckle clearance whilst chopping on a chopping board which is ideal and also essential when working on lengthy prepping tasks in the kitchen.
The blades with all of the Shun knives are razor sharp and the Usuba knife is no different – it's sharp! Each of the blades has been handmade from pure VG10 super steel and sharpened by hand to an extreme 16-degree cutting edge, making them among the sharpest available.
Each blade features mirror-polished edges and a hammered ("tsushime" in Japanese) finish for superior cutting while enabling food to release easily from the blade.
The Shun Edo knives utilize the advanced ergonomic handle design and knife blade geometry. Handles are made from resin-impregnated Pakkawood for strength, durability and moisture protection, while their contour provides a great grip. Every aspect of this Asian knife has been designed for maximum control and comfort.
The heavy bolster on this Usuba knife helps to encourage proper knife grip, while the knife handle features a very slight elevation which gives you full contact between the knife and cutting surface without the chef's knuckles getting in the way.
>> Click here to see reviews, ratings, specifications and prices on Amazon << 
Our Verdict:
Do you want to slice, dice and karate chop your vegetables like Jackie Chan? This is the knife for you! No seriously this is an excellent Asian style knife that can be used very much like the everyday Chef's knife in your kitchen. The price tag may be out of many home cooks budgets but for the serious Chef and kitchen knife enthusiast this is a must have for your knife collection.
The VG-10 super steel keeps its finish and does not scratch or dull from normal everyday use. The resin-infused hardwood handles do a fantastic job of preventing water damage.  However as with any wood handled knife you should keep it oiled or waxed as and when needed if you plan on the knife lasting a lifetime.
This Usuba knife is balanced perfectly, weighted perfectly and is razor sharp – and did I say it looks GREAT!
Shun Edo BB1513 6-1/2-Inch Single Bevel Usuba Knife
Price: $129.95
(22 customer reviews)
1 used & new available from $129.95