Best Kitchen Knife for Small Hands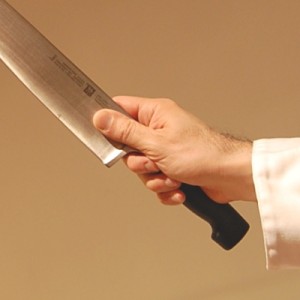 If you follow this website you've probably heard us say before that choosing the best kitchen knife is a very personal thing and there is no one-size-fits-all knife.
This is especially prevalent when choosing the best kitchen knife for small hands.
When choosing the right knife if you have smaller hands It's really all about how that particular knife feel feels in your hand when you pick it up and hold it, whether the size, weight, and comfort of the particular kitchen knife is best suited for you can only be gauged when you actually put the knife in your hand.
If you do have smaller hands than the average Joe don't worry because with the array of high quality kitchen knives that are available in today's market choosing a knife for hands of all sizes is no longer a problem.
When picking a knife you should ideally take a look at the handle and choose an appropriate size of knife that you feel comfortable maneuvering and handling. If you have small hands wielding a massive meat cleaver is probably not going to be a good option for you, but a scaled down 5-inch or even 6-inch chef's knife might just be a perfect fit.
When exploring your options, these three kitchen knives are a terrific starting point for anyone with smaller hands.
>>Click here to see the latest deals on the best kitchen knives at Amazon<<
Our Top 3 Recommended Kitchen Knives for Smaller Hands
For anyone with smaller hands you won't go far wrong with this excellent knife from Global. What makes this knife a great choice? Well the tapered, pitted handle allows you to get a good grip no matter what size hands you have and the smaller 6-inch size is perfect. Depending on how big your hands actually are you can scale up to a 7-inch, or the popular 8-inch or bigger until you find the best fitting knife for your hands.
The all-stainless steel construction of the Global kitchen knives reduces upkeep to a minimum without increasing weight. And you'll find that this excellent chef's knife cuts weight by ounces compared to the standard European style.
Each of the Global kitchen knives are extremely light weight and have perfect balance for any sized hands. Global technicians adjust each knife by adding sand to the hollow handle before the final sealing to give each knife a perfect weight and balance.
Because of it excellent grip, perfect balance and superb maneuverability the Global 5 inch, 13cm Chef's Knife is perfect for anyone with smaller hands.
Here at BestChefKitchenKnives.com we are HUGE fans of the Victorinox kitchen knives and you'll find that we recommend these knives a lot, especially if you're looking for a beginner kitchen knife or a good quality budget chef's knife. So it's no surprise that we have picked out a knife from the Victorinox range for this article.
The Victorinox 5-Inch Mini-Chef's Knife is really a great choice for those of you with little hands and it can tackle a multitude of kitchen tasks, like chopping, mincing, slicing, and dicing other smaller items.
The blade is made out of high carbon stainless-steel that provides maximum sharpness and edge retention, each of the blades have been conical ground through length and depth for a wider break point and then ice tempered to sustain sharpness longer
You can't go wrong with the excellent grip the textured, slip resistant Fibrox handles offer not to mention great balance as well as comfort for any size hands.
This little beauty will quickly become the workhorse of your kitchen knife collection. The knife handle is much more comfortable and grippy than other classics chef knives and the unusual shape of the blade allows both slicing and chopping with a rocking motion a breeze.
Our last recommendation is the smaller version of the classic Santoku kitchen knife. If you are looking for a kitchen knife to slice and dice vegetables with ease the Wusthof Santoku is a great choice. Even the official Wusthof website markets this kitchen knife to anyone with smaller hands.
This knife has a full-tang which means that the blade extends all the way through the handle which gives you excellent control. And each blade has been hand-forged out of high-carbon steel with stain-resistant alloy.
The riveted Synthetic traditional-style handles offer great grip and are very easy to keep clean and because of the contoured design almost any size hand with be able to get a good grip.
The Wusthof Classic 5-Inch Hollow-Ground Santoku makes cutting and slicing onions, cutting up carrots, and neatly creating thin ribbons of basil a breeze, it really is an all around multipurpose kitchen knife that can tackle an array of everyday kitchen tasks.
At the end of the day choosing the best knife if you do have slightly smaller hands really all boils down to your budget, if we had to recommend just one knife the Global 5 inch Chef's Knife would be it – it will last you a lifetime if looked after correctly.