What is the Best Sushi Knife?
If you're a huge fan of Sushi then making homemade Sushi is probably something you tackle at home on a regular basis but without the best Sushi knife your vision of restaurant quality Sushi will quickly become a challenge and a distant dream.
You need to choose the best knife to tackle the preparation of Sushi, the knife blade needs to be long, thin and razor sharp with a finish that allows the sticky fish slices to fall away from the blade easily.
Nearly all of the best Sushi knives are made of high-carbon steel and not stainless steel. With blades manufactured from high-carbon steel rusting is often a big issue but the trade off is that your blade can attain a much sharper edge than the stainless steel varieties.
If you're looking to invest in a Sushi knife or if you are looking to replace an existing knife continue reading as we have put together a collection of some of the best Sushi knives money can buy.
Our Recommended Best Sushi Knives
Knife
Size
Brand
Pricing
Rating
Visit
Knife
Size
Brand
Pricing
Rating
Visit
12-inch
Global
High

★★★★★

10-inch
Dexter-Russell
Medium

★★★★★

10.5-inch
Yoshihiro
High

★★★★

★

10-inch
Shun
High

★★★★★

12-inch
Mercer Cutlery
Low

★★★★

★

8-inch
Sekizo
Low

★★★★

★

10 5/8-inch
Paderno World Cuisine
Medium

★★★

★★

9-inch
Wusthof
High

★★★★

★

10 1/2 -inch
Global
High

★★★★

★

13 5/8-inch
JapanBargain
Low

★★★

★★
What Is A Sushi Knife?
Sushi knives are Traditional Japanese knives that have been made to slice fish have been designed with this sole functionality in mind.
One unique trait you'll find with Sushi knives is their single beveled edge and each knife has been sharpened so that only one side holds the cutting edge and the other side remains flat. The reason for the flat edge is so that food doesn't easily stick to the knife blade, which makes prepping Sushi a whole lot easier.
The handles of Sushi knives are also unique, traditionally; the handles were shaped with a "D" cross section this design was intended to make it more comfortable for anyone using the knife for long periods of time. The Sushi knife handles are made with various types of wood and you will usually find a bone cap towards the top on many of the traditional knives.
Another unique feature of a Sushi knife is the Tang; you'll find that Sushi knives have full tang and half tang varieties. (full tang runs the entire length of the handle where as half tang does not).
Basic Types of Sushi Knives
When you talk about Sushi knives there are really only a handful that are commonly found in the modern kitchen.
Santoku:  this knife has gained popularity over recent years and is a great alternative to a chef's knife. The Santoku knife can be used for the preparation of meat, vegetables, and of course fish.
Yanagiba: this can be classed as the standard knife when it comes to the preparation of Sushi and it is ideal for cutting Sashimi and Sushi rolls.
Deba: this closely resembles a meat cleaver and is a needed to cut through bones and cartilage of fish.
Usuba:  this knife is ideal for preparation of vegetables, and is great for the more integrate prepping tasks like cutting and peeling.
You find more style of knives that are used in the Sushi industry but there are rare and are not really needed for most. The above knives are considered the essential knives when you want to prepare Sushi from scratch.
Our Top Sushi Knife Picks
The Global Sushi knife was born to slice Sushi; the yanagi sashimi knife is the Japanese equivalent to a western utility knife and is ideal for creating garnishes, cutting Sushi rolls and filleting fish as well as everyday slicing and dicing.
This knife is an excellent slicing knife that works great at slicing large pieces of fish for Sushi. It Also can be doubled up and used to carve roasts and turkey.
Each and every Global kitchen knives are made to the highest standards and the 12-Inch Yanagi Sashimi is no different. These knives are differentiated from regular knives from the West since these are so sharp.
Global knives are crafted of Cromova 18 stainless steel which gives them the perfect combination of chromium, molybdenum and vanadium which helps to maximize the knife edge retention and helps to make the knife more stain resistant.
If you're looking for a good quality Sushi knife at a great price then the Russell 10-Inch Sashimi Knife is a great choice.
The Sushi knife blade is crafted from high quality stainless steel and features a genuine wooden handle.
The performance of this budget Sushi knife is the same as you would get from any top shelf professional grade Sushi knife and the same care and up-keep is required to prolong the lifespan. When opening the packaging you may be fooled into thinking this is a different knife as it looks and feel like many of the higher priced alternatives.
For anyone looking to buy their first Sushi knife on a budget and don't want to over spend, this is a great option for anyone's first Sushi knife.
The Yoshihiro Sushi Knife is your more traditional looking knife and each one is painstakingly handcrafted from the highest quality steel giving you exceptional performance along with exceptional value.
The forging process involves infusing white steel with iron which creates the beautiful "mist" patterns called "Kasumi" on the knife blade.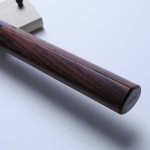 Each of the knives are finished with a traditional Japanese style handcrafted "Shitan" Rosewood handle which is affixed with a Water Buffalo horn bolster and even comes with a protective traditional wooden sheath called a "Saya" which helps to protect the knife and also adds to its appearance when not in use.
For anyone with a bigger budget wanting a truly exceptional high quality traditional style Sushi knife this is the one for you.