Best Kitchen Knives for the Money – My Top Picks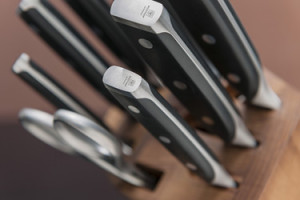 There are hundreds if not thousands of kinds of kitchen knives, but there are only really a handful of knives that every kitchen should have. A basic set of kitchen knives should be enough for any chef to complete each and every task in the kitchen.
One of the problems however is finding the best kitchen knives money can buy and if you are on a tight budget picking out the best knives can sometimes be a challenge.
In this article I'm going to pick out my top recommended kitchen knives which I think are the best knives you'll find for the money. This article is really aimed at the home chef with a limited budget, so bearing that in mind I will recommend what I think is the best chef's knife and also a full kitchen knife set.
A good quality knife set that includes all of the knives you'll need in the kitchen is an affordable way to get some top quality knives that look great on anyone's kitchen counter top.
Having one good quality chef's knife is an investment you should make; the chef knife is the most used knife in the kitchen and can be utilized for many tasks, so it's worth spending some money on a good quality chef's knife for your kitchen. A top chef knife, depending on how you use and look after it, should easily last for 30 years or more.
Best Chefs Knife – My Recommendation
There are literally hundreds or even thousands of chef's knives out there but when I was picking out my recommended best chef's knife I was thinking again of the home chef on a limited budget, so ideally a good quality chef's knife for under $100 is what I was looking for.
When it comes down a high quality chef's knife that is a quality knife for the money I picked out the Victorinox Swiss Classic 8″ Chef's Knife.
This style of chef's knife is found in every culinary students knife roll and is cheap enough to fit almost anyone's budget but is strong enough to last in the everyday kitchen.
The Victorinox Swiss Classic 8″ Chef's Knife is not the prettiest looking knife, Its handle isn't riveted or constructed out of polished hard wood, and there's no elaborate story on how the knife blade has been crafted, but for the money this is probably one of the best knives you'll find for your kitchen.
Each highly polished knife blade has been crafted from high carbon stainless steel the blades have then been conically ground for better edge retention and each has been laser tested.
The Victorinox chef knife handles aren't going to win any beauty competitions, but they are very practical and work well in any kitchen. The Fibrox handles are slip resistant, hygienic, and are slightly textured to touch which gives you superior grip especially when your hands are wet.
The Victorinox Swiss Classic 8″ Chef's Knife has also received the NSF (National Sanitary Foundation) seal of approval for being a very sanitary knife, which is why it favored by culinary students and hotel and restaurant chefs.
These chefs' knives were designed with the restaurant and butchering industry in mind and their looks reflect this functional, no-frills origin.
Best chefs knife for the money? This is it – hands down!
<<Check out the latest deals and reviews on Chef's Knives at Amazon>>

Best Knife Set for the Money
They are lots of knife sets in the market and ChicagoCutlery seem to be the leader in this area, but I think you can pick up a better higher quality knife set than those offered by ChicagoCutlery.
Out of all of the knife sets I have to go with the Wüsthof Gourmet 12-Piece Knife Set as being the best value and for giving you the most "bang for your buck".
The Wüsthof Gourmet 12-Piece Knife Set with Block is really an excellent deal, you are getting 12 knives for a great price, with a knife block, and from a very well know German kitchen knife manufacturer.
This gourmet knife set by Wüsthof gives you all of the knives and tools you'll need for your kitchen. The Wüsthof knife set includes a 2-1/2-inch parer knife as well as a 3-inch parer, a 4-1/2-inch utility knife, an 8-inch bread knife, a8-inch cook's knife, four steak knives, a 9-inch honing steel an also a set of trendy Wüsthof kitchen shears the complete set is housed neatly in a hardwood knife block with heat stamped Wüsthof logo – this knife set would look good on anyone's kitchen counter top.
Each handle is riveted and ergonomically designed for a secure, comfortable grip and the tang assembly is seamless and totally hygienic.
Using these knives will make you feel like you're a chef! They look beautiful and will be the focal point of your kitchen and probably the topic of many conversations.
For anyone looking for a complete set of multipurpose knives on a budget these are a great choice.
<<Check out the latest deals and reviews on Knife Sets at Amazon>>

In closing; so there you have it my recommended top chef's knife and what I think is the best knife set for the money, you should be able to pick up a deal over at Amazon and there should be no reason why you can't pick up the whole lot for under $250, which is not a bad investment for a collection of the best knives for your kitchen that should last you for many years.