Best Knives for Cutting Vegetables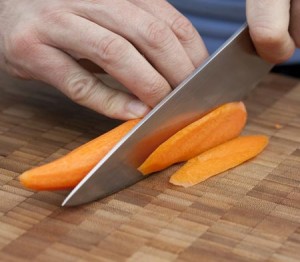 We were recently contacted by a reader who was struggling to cut vegetables and was looking for advice on the best knife for cutting vegetables, so we thought we'd do an article on this so that anyone who is trying to find the best knife to cut vegetables will benefit.
As with most professions there is a tool for every task, and this is no different in the kitchen. There are a huge range of kitchen knives that all serve their own purpose in the everyday kitchen. Some knives are best suited for slicing thin slices of fish like the Sushi knife, or you'll find some for chopping and hacking big chunks of meat like the meat cleaver, and there are even smaller kitchen knives like the paring knife for tackling the integrate prepping task like turning and peeling.
But when it comes to choosing the best knife for chopping vegetables there are only really a handful that are best suited for this prepping task.
In this article we'll list some of the best knives for the job so you can go away knowing exactly which kitchen knives you need to make prepping your vegetables a breeze.
>>Click here to see the latest deals on the best kitchen knives at Amazon<<
Best Knives for Chopping, Slicing and Dicing Vegetables
Santoku Knife: this is one of our favorites when prepping vegetables; styled and used very much like a chef's knife the Santoku knife is a winner when used for cutting vegetables. The small dimples on the blade help the cut vegetables to fall easily of the blade; the non-stick feature really makes chopping vegetables a breeze.
Victorinox 7 Inch Fibrox Pro Santoku Knife with Granton Blade, FFP
Price: $39.74
(779 customer reviews)
1 used & new available from $39.74
Chef's Knife: in the second spot we recommend the classic multipurpose chef's knife. The style of the blade makes it easy to chop vegetables' as you can get the rocking motion going, you'll also find the best chefs knives will have some weight behind them which helps when you are cutting vegetables over a long period of time.
ZWILLING J.A. Henckels Four-Star 8-inch Chef's Knife
Price: $99.95
(244 customer reviews)
9 used & new available from $50.99
Paring Knife: the paring knife is a great little knife for using on vegetables and even fruit and its small size makes it easy to peel and shape vegetables. If you are preparing a lot of vegetable the paring knife "just isn't going to cut It" (mind the pun) and you'll probably find hand fatigue setting in if you are using the paring knife for long periods of time. But if you just want to slice a carrot or peel potatoes the paring knife is a good choice.
Wusthof Classic 3-1/2-Inch Paring Knife
Price: $49.95
(501 customer reviews)
38 used & new available from $42.00
Tip: did you know that if you use a ceramic kitchen knife to prep lettuce the leaves won't go brown.
If we had to choose one knife for using on vegetables' the Santoku would be our choice. It doesn't matter if you choose a ceramic knife or a stainless steel kitchen knife, both are great knives to use in the preparation of vegetables, but be careful using a ceramic knife on harder vegetables like squash and even potatoes. The ceramic knife would be best suited for cutting up and prepping salads.