What are the Best Japanese Kitchen Knives?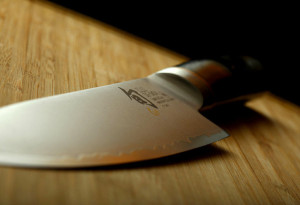 Japanese knives come in many different shapes and styles and are becoming more and more popular with western chefs.
Often looked at as the trendy kitchen knife don't let Japanese kitchen knives fool you, these knives are truly some of the best kitchen knives you can buy.
Japanese kitchen knives are designed to make precise intricate cuts, and unlike western knives a Japanese knife is often single ground meaning that only one side of the knife sharpened and hold a cutting edge.
You have probably noticed that the Japanese are very concerned about accuracy and detail when it comes to food presentation so as you can imagine their knives have to be razor sharp to be able to carry out the required precise slicing and filleting needed for their food.
There are quite a few variations of Japanese knives that are used in the Japanese kitchen, the most commonly used knives in the everyday Japanese kitchen are the Santoku which you could say is a general all purpose kitchen knife very much like the western chef knife, the Deba Bocho which is used for fish filleting, the Yanagi Ba and the Tako Hiki which are both used as Sashimi slicers and Sushi knives and for cutting vegetables the Usuba Hocho and the Nakiri Bocho knives are the preferred.
>> Click here to see reviews, ratings, specifications and prices on Amazon <<

So when it comes to investing some hard earned cash on a great set of Japanese knives just which ones are up for the job and deserve your attention?
In this article I will pick out some of the best Japanese kitchen knives that every professional must have in their knife roll.
Best Japanese Chef Knives
When it comes to picking out a Japanese chef knife that is really only one that comes to mind and deserve a place in the top spot and that knife is the Shun Classic Chef's Knife.
This 8-inch Japanese chef knife is a thing of beauty and once you have unwrapped it from its packing the thought of using it seems crazy and placing inside a display case would be its preferred home, come on snap yourself out of it, you bought this knife to use and use it you will.
Shun classic kitchen knives are an ideal choice for anyone buying their first Japanese knife and the Shun classic range features both traditional European blade shapes and innovative cutting-edge designs.
This high quality kitchen knife is a worthwhile addition to any professional chef's arsenal of tools. The knives were born from the ancient samurai sword making techniques and each knife has been hand finished to ensure the up-most knife making standards are adhered to.
What set this Japanese chef knife apart from the rest is the amazingly sharp blade that is renowned for both edge retention and ease of sharpening. Each handmade blade is manufactured from VG-10 super steel and features a very ornate Damascus steel design.
The Damascus knife blade not only enhances the knifes beauty but also offers added durability, stain resistance and helps to reduce friction whilst prepping food.
If you are shopping around for Japanese chef knives and you are weighing up your options as to which knife to choose, you won't go far wrong with pulling out your cash and investing in the Shun classic chef's knife, it truly is the best Japanese kitchen knife that we have come across for the western chef.
>> Click here to see reviews, ratings, specifications and prices on Amazon <<

Best Japanese Knife Sets
If you're the kind of person who likes to purchase kitchen knives as a set then you're in luck as I have found one of the best Japanese knife sets your money can buy.
This knife set comes in at under $100 for a full set of Japanese kitchen knives, which isn't bad at all.
Of course these knives aren't in the same league as the Shun classic Japanese kitchen knives, but for the money and the craftsmanship of this set you just can't go wrong.
The 8 piece Ginsu knife set is a bargain hunters dream, the knife set comprises of a 8-inch chef's knife, a 7-inch Santoku, a 5-inch serrated knife, a 3-1/2-inch paring knife, a 5-inch utility knife and also a pair of kitchen succors, a great sharpening steel and all of the knives are housed in an elegant Bamboo storage block with a bit if Asian flair which should go with almost any home kitchen décor.
Like the best Japanese kitchen knives the Ginsu knife set is made from high quality stainless steel which is rust resistant and they hold an incredibly sharp edge (so be careful).
The rounded knife handles fit smoothly in your hand and are traditionally styled and manufactured from water and heat resistant resign and feature the sought after full tang.
>> Click here to see reviews, ratings, specifications and prices on Amazon <<

If you are on a budget and want to get your hands on a full set of Japanese kitchen knives look no further, the Ginsu Chikara knife set really is the best knife set money can buy.
But what about the Santoku knife and the Sushi knife? Don't worry we've got you covered head on over to our buying guides section to read about the best Santoku knives and the best Sushi knives.