What Are The Best Ceramic Knives?
There are many different varieties of kitchen knives in today's culinary world all made differently and with different materials. Trendy ceramic knives are the latest knives on the block; these knives look great and hold a razor sharp edge extremely well.
Ceramic knives are very lightweight compared to the stainless steel counterparts, super razor sharp, and the actual knife compound is around 50% harder than traditional stainless steel kitchen knives.
A ceramic knife is a great knife for doing basic kitchen prepping like chopping or dicing vegetables; however these knives cannot really tackle the hardier kitchen tasks like de-boning, carving, cutting up frozen food, or even slicing cheese for this reason a ceramic knife will never replace the traditional stainless steel kitchen knives.
A Selection of the Best Ceramic Knives
Knife
Type
Pricing
Rating
Visit
Knife
Type
Pricing
Rating
Visit
Chef's Knife
Medium

★★★★★

Chef's Knife
Medium

★★★★★

3-Piece Knife Set
Medium

★★★★

★

Paring Knife
Low

★★★★

★

3-Piece Knife Set
Low

★★★★★

Sanoku Knife
Low

★★★★

★

Chef's Knife
High

★★★★★

5-Piece Knife Set
High

★★★★

★

Chef's Knife
Low

★★★★★

3-Piece Knife Set
High

★★★★

★
How Do They Make Ceramic Knives?
Ceramic knives are made out of very hard and tough ceramic substance called Zirconia. The process of making ceramic knives is a unique process that uses traditional knife making techniques with modern technology.
Ceramic knives are produced and manufactured by mixing ceramic powder and water in a drum shaped container called a Mill. This process helps to make uniform particles which are essential for creating a high quality hard knife blade. A spray dryer dehydrates the liquid substance in the slurry to make a fine granulated powder that will be the base for the ceramic blade.
The granulated powder is then used to fill a knife-shaped mold and pressed at over 10,000 PSI (pounds per square inch) into a solid piece that will be turned into the finished blade. Then, the unfinished blade is removed from the mold then fired and sintered in a kiln like conventional ceramics, but under precisely controlled temperatures.
During this firing process in the kiln the knife blank shrinks to about 1/4 of the original size, the shrinkage rates are calculated at the design stage to ensure the finished knife design matches the original design specifications. After this process the ceramic substance becomes extremely hard and dense and is now ready to be sharpened with a diamond sharpening wheel and the handle can now be attached.
Watch this video below that shows you exactly how ceramic knives are manufactured and produced:  
3 Ceramic Knives Reviewed
This is one of the more popular best selling ceramic knives; the ultra-sharp 7-inch ceramic chef's knife with white blade is designed for dicing, chopping, and mincing.
It's lightweight, extremely balanced in the hand and the ceramic blade has been ground to microscopic precision by diamond wheels for rock-like edge that keeps excellent sharpness retention.
The ergonomic designed handle helps reduce fatigue during repetitive cutting and this knife is totally impervious to acids, juices, oils, salts or other elements and , leave no metallic taste or odor, and help maintain the freshness of fruit and vegetables; plus it will never rust!
Diamond wheels are used to sharpen ceramic knives and you can use the purpose made Kyocera Electric Ceramic Knife Sharpener for re-sharpening at home. Kyocera also offers a complimentary re-sharpening service, but you will have to courier your ceramic knives to them.
If you had to invest in 1 good quality ceramic knife this would be my recommendation – what a great buy!
Everyone who follow this website knows I'm a huge fan of the Victorinox kitchen knives and always recommend the Victorinox Fibrox 8-Inch Chef's Knife to anyone looking for a budget, robust chef's knife. So when I discovered that Victorinox had started to make ceramic knives I had to get one and boy what a great knife.
As with all ceramic kitchen knives the Victorinox Ceramic 6-Inch Chef Knife is durable, extremely sharp, and lightweight (about 1/2 that of steel) and Sanitary and easy to clean. One of the great features on ceramic knives in general is the fact that the blade does not retain any food odors as the ceramic material is not very porous.
You can cut something spicy, give it a quick rinse under the kitchen tap and then carry on cutting something else; the spiciness won't transfer to the next food item.
One of the best ceramic knives from a reputable well-known knife manufacturing company – grab one today!
These Elite black ceramic kitchen knife set includes 3 razor sharp ceramic knives that slice through vegetables, fruits, and boneless meats with ease.
Each of these ceramic knives has been finished in a black reflective black veneer and weighs less than half the weight of the equivalent stainless steel knife. Having a kitchen knife as light as this really helps with reducing hand fatigue from prepping big meals and repetitive cutting.
This ceramic knife set has been manufactured using the purest ceramic and each of the knife blades is close in hardness to diamonds – the knife edge will also retain its razor sharpness 10 times longer than traditional steel kitchen knives.
This ceramic knife set contains 3 knives that are all different sizes so you can tackle virtually any big or intricate prepping task in the kitchen with this complete set.
Caring For Your Ceramic Knives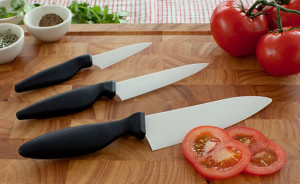 Ceramic kitchen knives need a little more care than your regular steel knives and you'll find that many of the best ceramic knife brands will provide a detailed care guide enclosed with the knives when you purchase them.
As with all premium kitchen knives they are best stored in the original packaging, vertically in a knife block, or mounted securely on a magnetic knife strip. If you do decide that you want to store your ceramic knives in your kitchen utensil drawer make sure that you protect them with a plastic knife sheath to make sure that they don't get damaged rumbling around with the other kitchen utensils.
Ceramic kitchen knives should be handwashed with simple soap and water dried and then put away. Never just throw your ceramic knives in the dishwasher, not only will the knives become chipped you'll also run the risk of damaging your dishwasher.