Best Chef Knife Bags – My Top Picks
Investing in a good quality chef knife bag is a great way to look after your kitchen knives. If you are like me I treat my best kitchen knives like my babies and cringe when I see my friends and family throw their kitchen knives in the cutlery drawer with the other kitchen utensils.
The good thing about storing your chef knives in a bag is that your always know where they are, and you can pick up your knife bag and take your chef and kitchen knives anywhere. If you are a professional chef you will find that you end up cooking all over the place at different venues, functions, and dinner party's so a chef knife bag is a must and an investment you'll have to make.
Or if you are the avid home chef traveling with your best kitchen knives to family gatherings like Thanksgiving and Christmas using a knife bag is a great way to transport your knives safely and don't worry about catching a flight because storing your chef knifes in a bag in the checked in luggage is perfectly fine.
There are many types of chef knife bags, knife rolls, and knife cases that all have their own pros and cons. For the average home cook or chef who is wanting to just look after their kitchen knives a basic knife bag is fine and you can store your knives safely and securely in your desired location and then just pull out the knife bag when you want to prep food.
I'm more a traditional kinda guy so I tend to favor the knife roll over the knife bag but hey that's just my personal preference.
Below I have picked out the best chef knife bags, rolls and cases – I'm sure you'll find one that is ideal for your knife storage needs.
The Ultimate Chef Knife Bag Guide
Knife
Type
Pricing
Rating
Visit
Knife
Type
Pricing
Rating
Visit
Knife Bag
High

★★★★★

Knife Case
Medium

★★★★★

Knife Roll
Low

★★★★

★

Knife Bag
High

★★★★

★

Knife Roll
High

★★★★★

Knife Bag
High

★★★★

★

Knife Bag
Medium

★★★★★

Knife Roll
Medium

★★★★★

Knife Case
Medium

★★★

★★

Knife Roll
Medium

★★★

★★
My Top 3 Chef Knife Bag Picks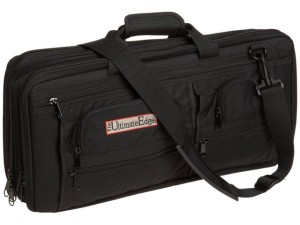 This is a great chef knife bag that has a ton of pockets and a total of 16 knife slots and other places to store other kitchen tools, piping nozzles, pens pencils, and even business cards; this really is the ultimate chef knife bag you'll need!
The knife bag comes with a padded shoulder strap and the interior has been made from mesh-like material which seems very strong.
The quality of this knife bag is excellent and is very well constructed and robust – if looked after this bag will last the test of time for sure.
By far, this is the best knife bag of this type that I have been able to find for this price, anywhere.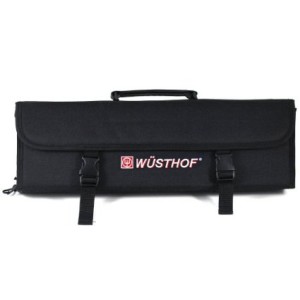 The Wusthof name is well known in the knife world, but are their knife cases up to scratch? For me this is the best knife case – it's small, light weight and keeps your most important kitchen knives safe. Its ideal for quickly grabbing throwing in the car and taking your knives with you wherever you maybe going.
The case is a well made and has been constructed from puncture-resistant black nylon, the case is designed to hold 10 knives in the elasticized pockets but I've found that you can easily store more than 10 knives in this case and the biggest kitchen knife I've managed to fit in the case is 12 inches long, oh and my honing steel fits in too.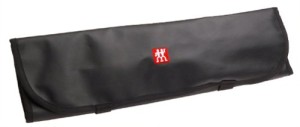 My personal favorite chef knife roll; simple, easy knife storage solution, that is a favorite with many professional chefs.
This knife roll can hold up to 7 kitchen knives; basically your essential knives can be stored in this roll. The knife roll has been crafted from heavy black nylon that should last for many years.
This knife roll does what it's meant to and the overall quality and build is excellent – it has leather on the outside and nylon and elastic insides, there's even a flap in one end to keep the knife at the very end form being exposed when rolled.
Overall, if you are looking for something to contain and store your kitchen knives and don't want to invest too much money for a really good one, this will do the job.