Best Kitchen Knives Made in the USA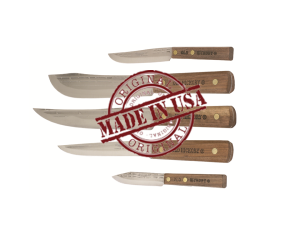 Finding a set of good quality kitchen knives that have been made in the USA is getting a lot more difficult these days.
Most of the kitchen knives in today's market are made in China, there is nothing wrong with these knives from China but you just don't get the love of the old traditional style kitchen knives that were once lovingly manufactured in the USA.
Some of the best kitchen knives still come out of Japan and are still manufactured, forged, and processed using the very old traditional knife manufacturing techniques.
But in this article I have researched and asked around and found 3 kitchen knife brands that are still lovingly made in the USA.
The knives are great quality, solid knives that you can use in the kitchen and will last you a lifetime.
Here Are 3 Sets of Knives That are Still Manufactured in the USA
These are very traditional looking kitchen knives that your grandmothers and their mothers used many years ago.
The Old Hickory knife range has been made with fully heat treated and tempered good quality Carbon Steel.
Each handle features hardwood construction that is held together with traditional looking brass compression rivets.
After the manufacturing process the knives are put through a specialized sharpening process that ensures a great razor sharp knife edge that is ready to tackle almost any kitchen task.
>> Click here to see reviews, ratings, specifications and prices on Amazon <<
The Old Kickory Knives have stood the test of time and are as good today as they were so many years ago.
This unique knife set includes; 7″ Butcher's Knife, 3.25″ Paring Knife, 4″ Paring Knife, 6″ Boning Knife, 8″ Slicing Knife
This is a great looking Chef's knife that cuts through anything like butter.
The kitchen knife is made and constructed in the USA however the high-carbon forged stainless steel is from Solingen, Germany.
Is this a bad thing?
Well not really, the steel from Germany is of very high quality and the fact that the knife is put together and the handles are truly American makes this knife an American knife.
The knife blade is made from hardened and tempered forged steel that is all one piece, taper-ground for a razor sharp edge.
>> Click here to see reviews, ratings, specifications and prices on Amazon <<
These knife handles are extremely durable Dymondwood resin-infused wood handles that are heat and water resistant.
Each handle is also triple riveted with Nickel Silver rivets for great balance and additional weight.
I love the look of these kitchen knives the handles look amazing; you'll definitely be the envy of your Chef buddies with these knives.
This knife set Includes a  8″ Chef Knife, 6″ Utility Knife, and 3.5″ Paring Knife
Each knife blade is made from a single piece on stainless steel giving you the desirable full tang construction.
The handles are hand finished blended Micarta and Winewood and feature hand-polished rivets.
These kitchen knives are not cheap but are well worth the investment, they would make a great Christmas gift or Birthday present for the Chef who has everything!
>> Click here to see reviews, ratings, specifications and prices on Amazon <<

How long these knives will continue to be made in the USA is anyone's guess so best pick up a set now before they're all gone!