How Many Kitchen Knives Do You Really Need?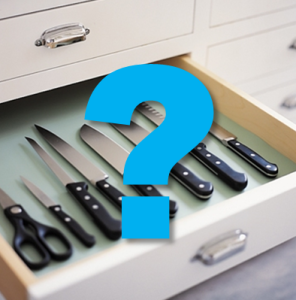 This is a great question; the selection of kitchen knives you will need really depends on what you do most in the kitchen.
The average home Chef can probably accomplish everyday kitchen tasks with a bare minimum of 3 kitchen knives; a Chef's Knife, a Serrated Knife, and a Paring Knife. With these 3 knives you should be all set to tackle virtually any meal.
For me these are the only 3 kitchen knives that I reach for and use the most, almost daily in fact. It's rare I will use other kitchen knives unless I have a specialized task in the kitchen like skinning a fish or de-boning some fresh meat. For those prepping tasks I would pull out my boning knife and fillet knife, but do you fillet or bone meat daily?
Most of us don't, let's be honest the average home Chef tends to buy their meat or fish readily prepared at the local market. So let's leave those knives out of the kitchen knives that you really need and let's focus on the knives that you do need to tackle those everyday kitchen tasks.
As outline above the 3 kitchen knives you really should have are a good quality Chef's knife, a Paring knife and a good quality Serrated knife or Bread knife.
A Chef's Knife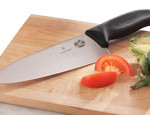 A Chef's knife will be the go-to knife 90% of the time you are working and prepping food in the kitchen. This versatile kitchen knife can tackle everything from chopping, mincing, slicing, and dicing this knife will be stuck to your hand for nearly all kitchen tasks and truly is a kitchen knife you really need to have. There are many (hundreds) of good quality Chef knives in today's market, we have mentioned in previous articles the Chef knife we highly recommend for its affordability and durability which is the Victorinox Fibrox 8-Inch Chef's Knife – this is a good starter knife and is really well priced for the everyday cook or Chef.
>> Click here to see reviews, ratings, specifications and prices on Amazon <<

A Paring Knife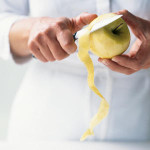 The Paring knife is one of those knives you always have laying around the kitchen and you may or may not know it but you probably use this little knife for lots of kitchen tasks as well as utilizing it for other tasks such as cutting string opening food wrappers etc. – this truly is a versatile multi-prep knife that really deserves a place in the kitchen knives you really need to have.
Unlike the Chef's knife, which is almost always used on a chopping board, you can cut with the Paring knife while holding it in your hand, as though it is an extension of your hand.
A Paring knife really shines at tackling those smaller integrate delicate kitchen tasks that the big Chef's knife simple cannot do; things like peeling vegetables, turning potatoes, prepping fruits or even coring an Apple.
A good paring knife will last you a life-time, I personally recommend investing in the Wusthof Classic 8-Inch Cook's Knife this is a solid Paring knife that is forged from high-carbon stainless steel, hand-honed and comes with a traditional riveted handle.
>> Click here to see reviews, ratings, specifications and prices on Amazon <<

A Serrated Knife or Bread Knife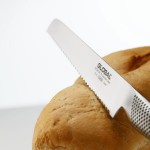 A bread knife is probably one of the knives you will use the least but there really isn't any other knife that can substitute the Serrated blade, so for me it really needs to fall into the category of knives you really need to have in the kitchen.
A Serrated knife or Bread knife can be used for more than just cutting bread, you'll find that the blade of a Serrated knife is always razor sharp and for cutting and prepping fruit this is a great knife to use. If you've ever struggled to cut tomatoes try using a Serrated knife – you'll be surprised how easily it slices though them!
I have used many different brands of Bread knives but have fallen in love with this little gem of a knife, the Global Serrated knife. The Global Bread knife looks the part and it does a great job of slicing bread with minimal crumbs and its razor sharp like no other Bread knife I've used. If you want to invest in a good quality Serrated knife look no further than this one from the Global range.
>> Click here to see reviews, ratings, specifications and prices on Amazon <<

So there you have it what I think are the main kitchen knives you will need to tackle those everyday kitchen tasks; as a foundation these knives are all you'll need, less is more!
What would be your kitchen knives to add to this list after the Chef's Knife, Paring knife and Serrated knife? Let me know below…