What Is the Best Knife Sharpener?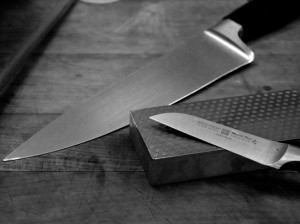 I have covered some of the best knife sharpening systems in other articles in the past but in this article I wanted to bring them all together in one ultimate guide of the best knife sharpeners.
Why? Because I felt that there was room for an ultimate knife sharpening guide covering everything on how to maintain and sharpen your kitchen knives through to picking out the best tools for the job.
I will go into detail on electric knife sharpeners, the traditional whetstone, and also the honing steel and will also touch on some of the best ways to sharpen your kitchen knives, plus I will be picking out some best along with a few knife sharpener reviews to that I feel deserve to be showcased.
So if you are looking for the best kitchen knife sharpener or just want to know how to keep your best kitchen knives in tip top shape, sit back, grab a coffee and read on.
>>click to see reviews, ratings and discounts for knife sharpeners at Amazon<<
Best Knife Sharpening System
Before I jump in knee deep I wanted to go over some of the different knife sharpeners available in today's market.
Basically you have 3 options (as I see it) you have a manual knife sharpener which as the name suggests lets you lets you manually sharpen your knives, and there are a few different types available that I will cover in more detail further down. The electric knife sharpeners which are great for anyone looking for a quick fix and not forgetting the honing steel.
Now the honing steel is often misunderstood, this is not a sharpening tool for knives, I know shock horror you've been lied to all these years! now take a deep breath and let's move on.
Having said that, I still wanted to include the honing steel in this article because it is still an important part of routine kitchen knife maintenance and should be done along with knife sharpening.
So when it comes to choosing the best knife sharpening system I don't have an answer, I know which I prefer but keep on reading and make your own mind up as to which is the best.
Electric Knife Sharpener
The electric knife sharpener is a great tool for quickly sharpening your knives and is going to be the fastest way to give your kitchen knives a new sharp edge, but use with caution.
Why I say use with caution is that you can very quickly over sharpen your knives I would NEVER put my best kitchen knives through an electric knife sharpener. Are electric knife sharpeners good? Yes and no, for the average home cook with a budget set of knives this tool is great and a real time saver.
You will find that most of the knife sharpeners in the market use both composite and diamond based abrasive stones. And some can even sharpen serrated blades and your best ceramic knives too but before you jump in and hand over your hard earned cash make sure you check the manufacturer's documentation.
>>click to see reviews and ratings for electric knife sharpeners at Amazon<<
How to Use an Electric Knife Sharpener?
Using an electric knife sharpener is relatively easy simply take your kitchen knife and slowly run it through the device using a little pressure when it is turned on. Each knife will have its own angle for which the blade needs to be sharpened and with most of the best electric knife sharpeners you can adjust the settings for your preferred sharpening angle.
Once you have run your knife through simply repeat the process taking a good look at your knife blade after each run through. Once you are happy with your knife blades edge wash the knife and hand dry to make sure that any loose metal scraps are removed.
There are better ways to sharpen your knives (as far as I'm concerned) so keep on reading.
Best Electric Knife Sharpeners
Knife
Stages
Brand
Pricing
Rating
Visit
Knife
Stages
Brand
Pricing
Rating
Visit
2
Smith's
High

★★★★★

3
Chef's Choice
High

★★★★★

2
Presto
Low

★★★★

★

3
Wüsthof
High

★★★★

★

3
Chef's Choice
Medium

★★★

★★
Electric Sharpener Top Pick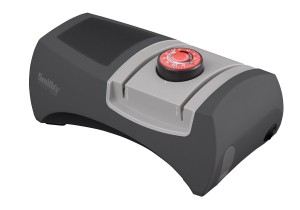 If you are looking for the best electric knife sharpener that will quickly sharpen all of your knives regardless of the bevel angle, look no further this is probably it.
I will admit it's not the cheapest product out there, even for angle selectable products but you do get what you pay for.
The Smith's electric knife sharpener offers more flexibility than any other electric sharpener on the market and it is by far the best we have tested and used.
This electric knife sharpener uses the Smith's interlocking wheel technology and it also features an angle adjustment dial which lets you set the proper sharpening angle on a wide variety of kitchen knives. So no matter what kitchen knife you throw at it we are pretty sure it will be able to sharpen it.
Hand Held Knife Sharpener
A hand held knife sharpener is very much like the electric sharpener but without the electric.
They tend to be smaller in size and are often termed as pocket knife sharpeners.
The only issue I have with this type is it is very easy to slip and slice your hand. Because they are smaller you really have to hold the hand held sharpener in your hand.
Are hand held knife sharpeners good? For the budget minded these are great tools to have around the kitchen and they are a lot cheaper than the electric counterparts.
Do I use one? Yes, I have one in my knife drawer which I use on my cheaper kitchen knives before each use. It only takes a minute to give you a new edge on your knife.
>>click to see reviews and ratings for handheld knife sharpeners at Amazon<<
How to Use a Hand Held Knife Sharpener?
It's not rocket science here folks, simply take your kitchen knife and run it through the slot in the device. As I said above it really is just like an electric sharpener but without the noise and minus the electric.
Best Hand Held Knife Sharpeners
Knife
Stages
Brand
Pricing
Rating
Visit
Knife
Stages
Brand
Pricing
Rating
Visit
2
Wüsthof
Medium

★★★★★

1
Henckels
Low

★★★★

★

2
Kitchen IQ
Medium

★★★★★

2
Smith's
Medium

★★★★

★

3
MinoSharp
High

★★★

★★
Hand Held Knife Sharpeners Top Pick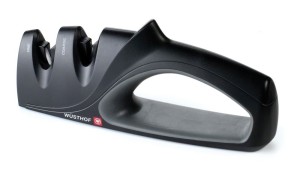 If you are shopping around for a handheld knife sharpener you won't go far wrong with the Wusthof Precision Sharpener.
This knife sharpener utilizes a two-stage process for sharpening your best kitchen knives that that gives a razor sharp edge to each and every knife you run through it.
The Wusthof Precision Edge 2 Stage Knife Sharpener features a V-shaped head that cuts using two carbide blades which are crossed which sharpens your knife edge quickly and with ease.
This hand knife sharpener is really easy to use and is perfect for the home kitchen to give your knives a new lease of life. Simply take your kitchen knife and place inside the first slot at a 90 degree angle and then pull your knife through a few times to sharpen the blade.
Once you have finished take you knife and place it is the ceramic honing side to finish it off.
Manual Knife Sharpener
When I talk about a manual knife sharpener I tend to refer to the traditional whetstone or sometimes called a wetstone.
A whetstone is a natural or artificial substance which is hard than your knife blade and you run or draw your knife over the surface at the correct angle to sharpen it.
The whole process of sharpening you knife on a whetstone is manually done and great care has to be taken to ensure that you hold your kitchen knife at the correct angle during the process.
This does take a little practice so for anyone just starting out I recommended using your older kitchen knives first until you get the hang of how to use the whetstone correctly. Don't get me wrong it's not as hard as you may think and once mastered you will have a razor harp knife edge that is in most cases better than when you first bought your knife.
When shopping around or reading reviews on whetstones you will notice that there are different types and varieties of knife sharpening stones with different grits (or fineness of abrasive).
Some are made from natural stone and some from artificial stone and the best will have some sort of abrasives such as diamond added to the surface to help with the sharpening process.
For me this is the best way to sharpen your knife and is by far the best knife sharpener. I use a whetstone once a month to bring my kitchen knives back to life. Of course for daily sharpening you shouldn't be using a whetstone and the handheld sharpener is what I use day to day and of course the honing steel (more on that in a bit).
>>click to see reviews and ratings for whetstone knife sharpeners at Amazon<<
How to Use a Whetstone?
It does take a little practice to master the whetstone so as mentioned above start with an older knife first. The process involves running or rubbing your kitchen knife over the surface of the stone at your preferred angle whilst using a lubricant or oil liberally applied to the surface.
Once you get the hang of using the whetstone you can sharpen your knife over varying grit. You can start off on the coarsest stone and then move you way up to the finest to give you the perfect knife edge.
Best Whetstones
Knife
Stones
Brand
Pricing
Rating
Visit
Knife
Stones
Brand
Pricing
Rating
Visit
3
Wüsthof
High

★★★★★

2
Kotobuki
Medium

★★★★

★

2
Shun
High

★★★★★

2
Mercer Cutlery
Medium

★★★★

★

1
Ruko
Low

★★★

★★
Whetstone Top Pick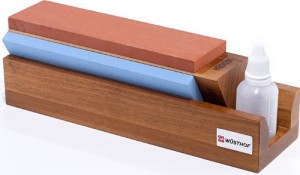 When it comes to the Rolls-Royce of whetstones this has got to be it. The Wusthof gourmet tri stone sharpener comes with everything you'll need to get your best kitchen knives razor sharp once again.
This whetstone comes with 3 sharpening stones (fine, medium, and coarse) that let you sharpen and hone knives with standard double edged blades as well as single bevel edges.
Everything is nicely enclosed in a wooden box which make for easy storage, there is nothing worse than losing a stone when you need it.
Out of all of the whetstones I have used over the years the quality of the stone surpasses the others, and to be honest you would expect a top quality product from Wusthof. In short this is worth the investment and will last a lifetime.
Honing Steel for Kitchen Knife Maintenance
Now we come to the honing steel or sharpening rod as people often call it.
As stated at the beginning of this article the honing steel is not a knife sharpener as it does not remove any metal from your blade.
Whereas the electric knife sharpener and the whetstone do in fact take tiny pieces of metal off your blade.
The honing steel and really be classed as a maintenance tool and how it works is really simple. You take your kitchen knife and slide it up and down the honing rod at your desired angle by doing this process repeatedly you are in fact (drum roll) .. re-aligning your knife blade.
Over the course of using your kitchen knives the knife blade with start to get nicked and slightly bent, this tends to go unnoticed and it is only very slight. The honing steel straightens out these imperfections making you knife feel like it is sharp once again.
Honing a knife can be done daily and you've probably noticed professional chefs running their chef's knife over the honing steel (with passion) before each use.
>>click to see reviews, ratings and discounts for honing steels at Amazon<<
Manual vs. Electric
For many the electric knife sharpener is going to do a great job. The manual or whetstone is going to take a little practice and the chances of damaging your knives can be high, however once mastered this is the best knife sharpener.
So when it comes down to manual vs. electric I would suggest both the electric for daily use and the manual knife sharpener for monthly upkeep of your best knives. But as they say practice does make perfect.
Knife Sharpening is Also about the Angle of the Bevel
When sharpening your kitchen knives doing so at the correct angle is one of the most import steps you need to control. Not all kitchen knives are sharpened at the same angle and care has to be taken on each of your different knives.
When I talk about angle I am talking about the actual angle between the two sides of the knife or if you want me to get all technical the bevel which is the angle between the angle between the centerline of the edge and one side of the edge.
So if you knife has an angle of 40 degrees that your sharpening angle would be 20 degree, makes sense?

However this isn't set in stone for all kitchen knives, for example some of the Asian kitchen knives are completely flat on one side and only beveled on the other. But generally your every day kitchen knives are beveled on both sides and taking a quick glance should be able to confirm that that is the case.
As a rule of thumb the knives with less of an angle will tend to be sharper but they will need to have regular honing and sharpening to keep the blade in tip top shape.
Generally speaking most of the everyday kitchen knives are normally sharpened at around 20 degrees. This angle gives a great compromise between durability and sharpness.
As you move up the price ladder you will notice that the best kitchen knives are sharpened at a 15 degree angle. These knives tend to be Asian or Japanese knives and they are thought of as the best of the best and sharpening these knives takes skill.