What is the Best Butcher Knife?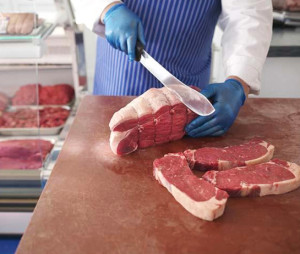 If you're a professional butcher or just a home cook having a butcher knife is a must if you prepare and cut meat often in the kitchen.
When you start to shop around for butcher knives for home or restaurant one of the first things you will notice is the different shapes, styles, and sizes.
Of course one of the most important factors when choosing a kitchen knife is the price, we all love a bargain and this is no different when picking out the best kitchen knife.
If goes without saying that the more you spend the better quality knife you will end up with but sometime you can find some really good kitchen knives at affordable prices.
If you have been cooking for sometime I'm sure you already have a favorite kitchen knife brand if you don't or if you are looking for a change read through our butcher knife reviews of our favorite butcher knives and what they have to offer.
Butcher Knife our Best Picks
Knife
Size
Brand
Pricing
Rating
Visit
Knife
Size
Brand
Pricing
Rating
Visit
12-inch
Victorinox
Medium

★★★★★

7-inch
Global
High

★★★★★

12-inch
Dexter-Russell
Medium

★★★★

★

12-inch
Rada Cutlery
Low

★★★★

★

10-inch
Ontario
Low

★★★

★★
Butcher Knife Uses
As with most kitchen knives you can make use of them for various kitchen prepping task and the butcher knife is also just a versatile. A butcher knife or often termed as a cimeter or scimitar has a blade typically 10-12 inches long and is generally used primarily for cutting, slicing and trimming meat and is a favorite with butchers for cutting large pieces of meat into retail cuts such as steaks.
However the butcher knife also has other uses in the kitchen such as cutting onions, potatoes, watermelons, and other tougher vegetables.
The best butcher's knife needs to have a razor sharp blade, slightly flexible and should offer a good grip on the handle.
>>Click to see reviews, ratings and discounts for Butcher knives at Amazon<<
Types of Butcher Knives
When we talk about a butcher knife we tend to talk about just one type of knife but in fact there are various different butcher knives that all have their own use when cutting and preparing meat. Any professional butcher will have these in reach because you simply cannot make all of the needed cuts with just one knife.
Boning Knife: this is the knife needed to help cut and slice the meat away from the animal bone. It is slightly flexible and without this knife boning is going to be very difficult indeed. There are a few different types and styles that are utilized by a professional butcher.
Skinning Knives: as the name suggests these butcher knives are ideal for skinning sheep and beef and game.
Meat Cleaver: the meat cleaver knife tends to be used for chopping up your pieces of meat and can even be used for breaking bone.
Butcher Knife: the butcher knife, cimeter or scimitar as it is often referred to is a knife is very similar to a chef's knife where it was actually derived. It is used primarily for cutting large pieces of meat into retail cuts such as steaks.
So as you can see each of these knives should be in your butcher kitchen knife set if you are serious about cutting up meat – the right way!
>>Click to see reviews, ratings and discounts for Butcher knives at Amazon<<

Best Butcher Knife Set
Now for anyone who wants to get the full butcher knife set we have found one which is a great buy and the best for your money.
It is by far our favorite kitchen knife manufacturer Victorinox who is as far as we are concerned make some of the best kitchen knives.
This butcher knife set contains all of the butchering knives you'll ever need and is a great set for not only a butcher but these knives are also great for any hunter and fisherman.
The selection of knives in this butcher knife set are all holstered inside a practical knife bag which make storing and carrying your knives a breeze.
With this set of butcher knives you get everything needed for butchering as well as final meat preparation before cooking.
Each of the knives has been crafted from high carbon, stainless steel and are hand finished in Switzerland. The handle use the Fibrox easy grip handles which are found on all of the Victorinox kitchen knives.
If you are looking for a complete butcher knife set look no further you won't get better value than this from a reputable kitchen knife manufacturer and the Butcher Knife is the best we've found.