Best Steak Knives under $100 and under $50? We've Got You Covered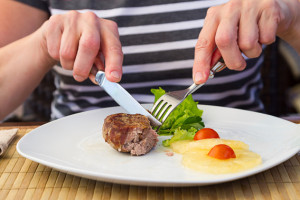 You asked! We listened so here you go the best steak knives for under $100 and under $50 bucks!
The good old steak knife, this is a very versatile knife that can be used for many tasks in the kitchen but is often found placed on the everyday kitchen dining table.
The primary use for steak knives is for cutting cooked meat into bite sized pieces at the dining table and the sharp serrated knife blades makes easy work of the toughest steaks.
The steak knife actually can be used for a lot more task around the kitchen than just cutting tough steak. One of the great ways to utilize your steak knife is to use it for cutting thin slices of tomato; the serrated blade makes slicing tomatoes a breeze. You can also the steak knife to cut and prepare many different fruits like apples, mangos, and even pineapples – go on give it a try!
If you have not already invested in a good set of steak knives we highly recommend you do, even if you're not a meat eater a good set of steak knives will be a great addition to your home kitchen knives.
Depending on your budget you can get some of the best steak knives for under $50 if you have a little more to spend you can splash out and invest in a good set of knives for under $100. Whatever your budget we have put together an easy steak knife buying guide to help you pick out the right knives for you.
Best Steak Knives under $50
Knife
Brand
Pricing
Rating
Visit
Knife
Brand
Pricing
Rating
Visit
J.A. Henckels
Low

★★★★★

Victorinox
Medium

★★★★★

Chicago Cutlery
Low

★★★★

★

Wusthof
Medium

★★★★

★

J.A. Henckels
High

★★★★

★
The be honest any of the above steak knives are a great buy and well worth the price tag plus they have been manufactured by some of the best names in the kitchen knife world.
Best Steak Knives under $100
Knife
Brand
Pricing
Rating
Visit
Knife
Brand
Pricing
Rating
Visit
Wusthof
Medium

★★★★★

J.A. Henckels
High

★★★★★

Laguiole
Medium

★★★★

★

J.A. Henckels
High

★★★★★

Mercer Cutlery
Medium

★★★★

★
If you have more to spend on a steak knife set you can't go wrong with one of the above sets, they look great brought out at dinner parties.
Our Top Steak Knife Picks
What can we say these are a great buy, made by J.A Henckels they are practically giving these away. They have been made from quality stamped one piece full tang stainless steel and the serrated cutting blade should never need to be sharpened.
The stainless steel is strong and doesn't bend, and extends all the way to the end of the handle. The handles on these steak knives have been triple riveted for strength and extra longevity.
These J.A. Henckels are good quality yet inexpensive steak knives that can be left in the sink or dishwasher without having to worry. The steak knives are heavy, sturdy and really nice to look at, great value for the price!
If you're looking for a more traditional steak house style steak knife these are for you. However these steak knives do not have a serrated blade but they still slice through steak and cooked meat like butter.
The knives have been made from stamped stainless steel with the Chicago Cutlery exclusive Taper Grind fine edge that should give you a razor sharp knife edge straight out of the box.
The Chicago Cutlery steak knife handles have been crafted from solid walnut and provide a traditional look along with a safe and comfortable grip for precision cutting.
As with all wooden handled kitchen knives try not to put them through the dish washer too often as this will dry out the wood and may cause the handle to crack.
Steak house or on your home dining table these steak knives are well balanced and look and feel great.
Did we leave the best to last? We may have. These are the type of steak knives you keep locked away and bring out for special occasion like dinner parties, Christmas or Thanksgiving.
This 8 piece steak knife set comes in a velvet-lined mahogany stained presentation box and unlike the above cheaper stamped blades the Wusthof steak knives have been precision-forged and come with a lifetime warranty.
Each of the steak knives has full tangs that extend all the way through the knives and they offer really great balance.
Whether you're looking to treat yourself or want to give a high quality set of steak knives as a gift or wedding present these are a great set that should last you a lifetime.