Are Magnetic Knife Racks Good? The Pros and Cons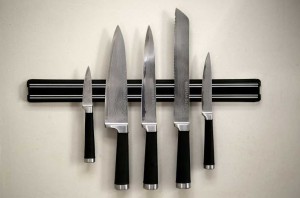 This is a question that often pops up in conversation "are magnetic knife racks any good?" To be honest there are pros and cons to using a magnetic knife rack and I will go through some of those further on down.
The main benefit however of having a magnetic knife rack is saving space, especially if you have a small kitchen with limited counter space and cupboard/drawer space.
Apart from being a great space saver magnetic knife racks also offer the benefit of added hygiene. We are all used to seeing knife sets that are stored in the traditional knife blocks – right? These knife blocks are a breeding ground for bacteria and germs, and this is even more prevalent in the wooden knife blocks.
Having your knives stored separately in an airy environment is one of the best ways to keep your knife rust and tarnish free as well as keeping the germs and bacteria at bay.
What Is A Magnetic Knife Holder?
A magnetic knife holder is basically a knife holder that fixes to a wall or side units. It utilizes magnets to hold the knives in place, many of the popular magnetic knife rack types are formed in a rectangular design with 2 or 3 magnetic horizontal lines incorporated within the design.
Many of the best Magnetic knife racks are manufacturing in both plastic, stainless steel, and even wood and can be easily mounted with screws to your desired surface.
Magnetic Knife Rack Pros
Space savers (great for small kitchens).
Hygienic (keeps bacteria and germs at bay).
Magnetic knife racks protect knife edges from dulling.
Helps to prolong the life of your knives.
Convenient and handy hanging on the wall.
Great way to show off your expensive knives.
Magnetic Knife Rack Cons
Dangerous if you have children and animals around
Slight possibility of damaging knives when removing from the knife rack
Knife racks may have negative Feng Shui.
Can you think of anymore?
Can A Magnetic Knife Holder Damage Knives?
There is a slight chance that a magnetic knife holder could damage your knives but I wouldn't say that a magnetic knife holder is bad for knives, the pros of magnetic knife racks definitely outweigh the cons – in my opinion.
The key to ensuring that your knives do not become damaged on a magnetic knife holder is in the removing and placing of the knife on the magnetic strip.
A slight pull and twist of the knife whilst holding the handle firmly is all that is needed when removing a knife from the rack.
When removing make sure that your don't let the sharp knife edge to hit the magnetic strip first, the sudden pull of the magnet and the knife hitting the strip on the blades edges could dull and damage the blade.
Once you have a technique for removing your knives from your magnetic knife rack safely and easily it will become second nature to you, as with anything new, "practice makes perfect"
What is the best Magnetic Knife Holder?
There are many styles and different varieties of magnet knife holders and each serve their own purpose in the kitchen.
For the sake of argument I will focus on the popular 3 magnetic knife rack styles; plastic, stainless steel, and wood.
Plastic: probably the most common magnetic knife rack style, these are very cheap to manufacture and come in many styles, colors, and shapes.
<<Check the latest deals on Plastic Magnetic Knife Racks at Amazon>>

Stainless Steel: often found in the professional kitchen, very easily to keep clean, there're also affordable and are long-lasting.
<<Check the latest deals on Steel Magnetic Knife Racks at Amazon>>

Wood: more expensive that your plastic and stainless steel magnetic knife racks but can look more "homely" than your commercial looking shiny steel knife racks. Harder to keep clean that the plastic of steel alternatives.
<<Check the latest deals on Wood Magnetic Knife Racks at Amazon>>

In closing, I personally love magnetic knife racks or holders and think they are great for the modern kitchen. Having your knives at arm's reach without having to rummage through the kitchen drawers to find your Chef's Knife and the added advantage of the germ and bacteria free environment is a win win for me.
Are Magnetic Knife Racks Good? I think there great, but don't just take my word for it try one yourself -Plus if you have a great set of best kitchen knives why not show them off!