Pros:
A long lasting Chef Knife that is extremely well made and looks great! If you want to look like a pro this Chef Knife is for you.
Cons:
A bit expensive and will break the bank for many novice Chef's, but spend now and invest and you will have a great Chef's Knife that will last you a lifetime.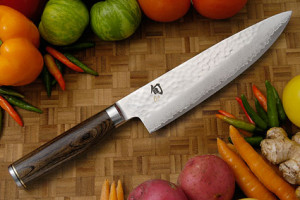 The Shun Premier Chef's Knife is an all-purpose Chefs Knife that is great for a variety of prepping tasks in the kitchen like chopping, slicing, dicing and more.
This Chef Knife is produced in Seki City, Japan, the capital of samurai sword manufacturing and features a large 8-inch Damascus (Suminigashi) steel knife blade with a slight curve that helps to facilitate a smooth rocking back and forth action for cutting. The blade is styled in a unique hand-hammered finish which helps to create a hollow-ground surface helping to reduce knife-drag when cutting and prevents food from sticking to the blade.
Each of the blades on the Shun Premier 8-Inch Chef's Knife have a 16-degree angle which makes the Shun Chef's knife more sharper than traditional Europeans blades which tend to be sharpened to 20 to 22 degrees. The Shun blade core consists of high carbon VG-10, which is a Japanese super steel well known for its edge retention, allowing the knives to hold their sharp edges for years.
The blade also has a large surface area which is ideal for transporting and scooping chopped ingredients from your chopping board.
>> Click here to see reviews, ratings, specifications and prices on Amazon <<
You will also notice that the knife handle is just as unique as the Damascus steel blade and is finished in a premium Pakkawood handle with a walnut finish and nestles comfortably into the curves of the palm and allows for a variety of comfortable and secure grips.
The PakkaWood handle is genuine hardwood that has been impregnated with resin – this process makes the hard wood handle resistant, strong, and extremely durable. As with natural wood, no two pieces of PakkaWood are exactly alike.
The Shun Premier 8-Inch Chef's Knife can safely go into any modern dishwasher but washing by hand and letting air dry is highly recommended.
Each knife comes with a limited lifetime warranty.
Our Verdict:
This is a premium Chef's Knife and yes it's not cheap – but if you're looking to invest the money on a knife that will truly last you a lifetime the Shun Premier 8-Inch Chef's Knife is quite possibly that knife.
The 8-Inch Shun Damascus knife is the perfect all-purpose knife for chopping and slicing both meats and vegetables. Like all Shun knives, this is truly a piece of art and a pleasure to work with. It's hand-forged using traditional Japanese sword making techniques and it holds an edge exceptionally well and has peerless balance. Great investment!
6-inch Shun Premier Chef's Knife is also available
Shun Premier Chef's Knife, 8-Inch
Price: $179.95
(279 customer reviews)
19 used & new available from $179.95