Pros:
The flexible knife blade makes it easy to cut meat off the bone and the recessed dots on the handle offer great grip. The solid one piece construction makes them very easy to keep clean and sanitary.
Cons:
This knife if at the high end when it comes to budgets and affordability, but as they say you get what you pay for - and this is a good investment.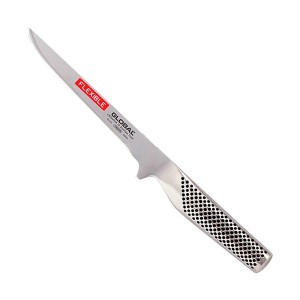 The Global G-21 Boning Knife is a lightweight, precisely balanced 6-1/4-inch Boning Knife with a flexible blade. The knife blade is made of hard molybdenum/vanadium stainless steel with a long taper rather than a short bevel making the edges remain sharper for longer compared to some of the other best kitchen knives that are manufactured using high-carbon stainless-steel. This knife blade really is utilizing the latest high tech when it comes to knife blade manufacturing.
The blade edge on the Global G-21 Boning Knife are ground at a more acute angle, has a thinner blade and is lighter than your traditional European-style boning knives and you will find that it retains razor sharpness exceptionally well. Your Boning Global Knife is razor sharp when it arrives from the factory and is ready to use straight out of the packaging.
The Global G-21 – 6 1/4 inch, 16cm flexible Boning Knife has a stainless-steel handle that has been precisely molded to fit the hand and dimpled to resist any slipping. A finger notch has also been added between the blade and handle that provides an extra bit of safety. Stainless-steel handles are Global's most striking feature, they offer not only great looking knife but also provide a more hygienic knife that helps to reduce the areas where food my become trapped and bacteria may grow.
>> Click here to see reviews, ratings, specifications and prices on Amazon <<
This Boning Knife offers great control and balance – balance is actually achieved by injecting a precise amount of sand for a particular blade style into the hollow handle, this is truly a unique manufacturing process and to ensure the balance in the knife is continuous, the sand flows inside the handle as a blade is maneuvered.
Ideally this Boning Knife should be sharpened using a ceramic sharpener or diamond steel instead of the regular more common metal sharpening steel. Global also makes a Sharpening Guide Rail so knife blades can be honed at the proper angle.
It is highly recommended that this knife to be hand washed to ensure that the knife edges are protected and don't become damaged.
Global offers a lifetime warranty against manufacturer defects as well as breakage.
Our Verdict:
This Boning Knife from Global is an excellent choice for the professional chef as wells as any home cook.
If you are looking to invest in a Boning Knife that will last for years or even a lifetime then the Global G-21 – 6 1/4 inch, 16cm flexible Boning Knife is a great investment.
The blade can easily bend around corners making it easier to cut the meat off of the bone. Additionally, the double-beveled edge accommodates both right- and left-handed users.
The lightweight design features perfect balance, helping reduce hand fatigue and the dimple pattern on the handle provides an overall stronger grip.
For Boning Knives you can't go wrong with this Boning Knife from Global. If you like Global knives and already have a Chef's Knife, a Bread Knife or maybe a few other kitchen knives in your collection and want to get something useful to add – get this, you won't be disappointed.
Global Cromova G-21 – 6 1/4 inch, 16cm Flexible Boning Knife
Price: $109.74
(65 customer reviews)
11 used & new available from $109.74