Pros:
The Damascus style blade is virtually rust free and this knife comes with a lifetime warranty. It cuts like a laser. slides right through breads, salami and even tomatoes very smoothly and with very little effort.
Cons:
The knife handle has a very strange smell when new? The shape of the teeth on this blade are such that once the cutting edge is dulled the knife really has very little to work with.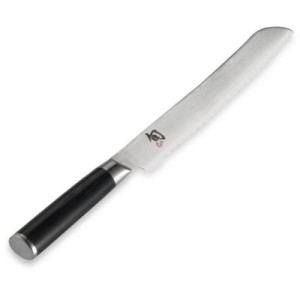 The Shun DM0705 classic 9-inch bread knife is a from the stylish Shun classic range of knives. This bread knife leverages on the 90 year history of superior craftsmanship that Shun knives are known for; all Shun knives are precision-forged in Japan by the renowned blade manufacturer KAI.
As with all Shun knives the manufacturing process involves using technologically advanced processes, a VG-10 "super steel" core is clad with 16 layers of high-carbon stainless steel which produces the rust-free Damascus-look knife blade.
The unique Damascus style blade not only enhances the knife's aesthetic appeal but it also helps prevent food from sticking to the blade during food preparation.
The Shun classic 9-inch bread knife is razor sharp and the serrated knife edge won't tear or crush foods during slicing. With this serrated knife you'll be able to tackle everything from rustic artisan breads to baguettes and even dessert items such chocolate tart and fruit pies.
>> Click here to see reviews, ratings, specifications and prices on Amazon <<
The Shun knife handle is designed to form a comfortable D-shaped hold and has been manufactured with a fused blend of hardwood veneers and resin which gives the Shun bread knife its unique ebony Pakkawood look. The traditional offset stainless-steel bolster protects your knuckles and the desirable steel end-cap finishes of the knife.
Although this Shun bread knife is dishwasher-safe hand washing is always recommended to help prolong the life of your knives. The Shun DM0705 classic 9-inch bread knife includes a lifetime warranty and has been manufactured in Seki City, Japan.
Our Verdict:
If you are looking for a breadknife that will last you for life (yes life!) this high quality bread knife from Shun is a perfect investment. It's a bit more expensive than the other major German knife brands, but it is worth it.
If you think of how many times you will buy a budget knife for a few dollars to then throw it way after a few months, the price tag of the Shun bread knife makes sense – one investment, one bread knife for life! (that is if you look after it).
This bread knife cuts hard crusted breads like butter, the thickness of the blade makes it very firm yet it does not create too much drag when slicing. The Shun bread knife really is an outstanding knife which is beautifully made, and cuts through all types of bread better than any bread knife I've ever owned.