Pros:
This Knife is easy to keep clean and because it is forged from one piece of steel helps to reduce the areas where bacteria and grow. If looked after this Chef's Knife should last for many years and comes with a lifetime warranty against defects and breakage.
Cons:
This is not a budget chef's Knife so expect to pay around $100. There have been reports that the knife blade is fragile and can chip and break easily.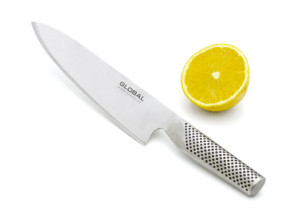 The Global 8 inch Chef's Knife is a great addition to any professional or home kitchen. This Global Chef's Knife is great for dicing, slicing and chopping and is knife that can be utilized for many tasks in the kitchen – it really it a multipurpose knife!
This is a Chef's Knife from the original Global knife style range; this Chef's Knife for example has a thinner blade and is a lot lighter than your traditional European- style Chef Knives. However Global do also offer a stylish knife range that are heavier for chefs and cooks that prefer a heavier knife.
The blade on this Global 8 inch Chef's Knife is made from a hard molybdenum/vanadium stainless steel and is face ground with a long taper rather than a short bevel – this really ensures that the knife remains sharper for longer compared to your everyday high carbon stainless steel knives.
When you order this Global Chef's Knife you will find that the blade is extremely sharp straight from the factory. The edges are actually ground at a more acute angle than traditional European-style knives.
>> Click here to see reviews, ratings, specifications and prices on Amazon <<
The seamless construction between handle and blade is more sanitary than other knives, there are no crevasses for food and bacteria to become stuck. The stylish handle that has become a well known trait for Global knives has a slight dimple effect that helps resist against slipping and each knife handle has been molded to ensure a perfect comfortable fit to your hand – they're easy for small-handed cooks to grasp and seamless for sanitation.
When sharpening any knife from the Global range it's best to use a ceramic sharpener or diamond steel instead of metal sharpening. Ideally Global knives should be hand-washed to help prolong and protect the knife edges.
Global offers a lifetime warranty against defects and breakage.
Our Verdict:
Despite the Global Chef Knifes unconventional look, it is well balanced, readily gripped when wet and astoundingly sharp. You will find that this 8-inch Chefs Knife is an essential tool for any kitchen and has more uses than any other knife in your kitchen.
Light weight and feels great in your hand it's super sharp and the knife edge retains razor sharpness exceptionally well – it really makes cutting virtually anything a breeze.
Although this Chef's Knife is a little pricey we really think it's money well spent. The Global 8 inch Chef's Knife will be a sleek addition to your kitchen. A 10-inch identical Chef's Knife is also available.
Global G-2 – 8 inch, 20cm Chef's Knife
Price: $99.95
(490 customer reviews)
17 used & new available from $99.95