Pros:
These are a great low end knife;. they are sharp, well balanced, and well designed.
Cons:
These knives are from the budget "cheap series" available at Wüsthof and do not hold a point like the more expensive knives in the Wüsthof range.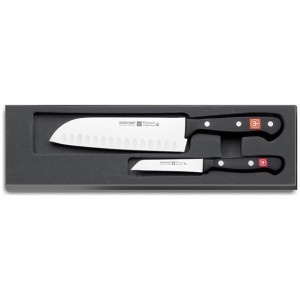 The Wüsthof gourmet 2-piece Asian knife set is from the Gourmet cutlery line from Wüsthof which offers excellent workmanship without the expense. Each knife from the Gourmet range is precisely cut with the latest state of the art laser technology and you will find a wide assortment of knives in this range for all purposes in the kitchen.
This Asian knife set from Wüsthof includes a 7-1/2-inch Santoku knife and a 3-inch straight Parer. Both of the knives have been manufactured from high-carbon stain-resistant steel with laser stamped blades. Wüsthof laser cuts and then laser tests each knife blade to ensure perfect uniformity as well as a super sharp knife edge.
The Gourmet Japanese cook's knife, which is commonly known as a Santoku knife, features a straight-edge blade which is ideal for straight-down slicing and precision chopping. The blade also features rows of alternating hollows or dimples which create tiny air pockets helping the knife slide through food whilst prepping and ensures that the food will not stick to the blade and the he slices just fall away.
>> Click here to see reviews, ratings, specifications and prices on Amazon <<
The 3-inch Parer that is included in the knife set comes in handy for cleaning food items like prawns, trimming ginger, or creating integrate garnishes. Like other Wüsthof knives, this set is safe in the dishwasher, but to prolong the life of your knives it's best to wash your kitchen knives by hand.
These Asian knives are reinforced with triple rivets on all blades for years of reliable use and easy sharpening. The durable Gourmet synthetic knife handles feature a seamless, hygienic fit and full-tang construction helping to give the knife maximum strength and durability.
These Wüsthof Asian knives are great fun to work with and will turn even the mundane preparation of a dish into a culinary pleasure.
Wüsthof Gourmet Vs Classic Knives
The Gourmet Knife series are equipped with a synthetic handle for easy wash and clean up. Gourmet Series Knives are stamped from a single piece of Steel. Also, with a handle that extends the full length of the tang the knife itself goes all the way into the handle.
The actual difference between the classic and gourmet is the knife handle design and how the blade connects into the handle. The Classic knife series is hand forged from a single piece of steel. The Classic series handle extends all the way through the handle from top to bottom, unlike the Gourmet series which only extends half way through the handle.
Our Verdict:
If you are looking for affordable, high quality knives which are multipurpose the Wüsthof gourmet 2-piece Asian knife set is a great option. This 2-piece Asian knife set would make an excellent gift; every chef would love to receive this high quality Asian Knife set.
Even though these knives are from Wüsthof's budget knife range that are still superior in quality, they may not hold a sharp edge as long as the premium knives but if looked after and Honed after every 3 to 4 uses you should not have any problems.
Great knives for the price, from a reputable knife manufacturing company and presented in a desirable box.
Wusthof Gourmet 2-Piece Asian Knife Set
Price: $66.99
(31 customer reviews)
18 used & new available from $66.99