Pros:
This Paring Knife features a full-tang, triple-riveted synthetic handle that offers superior strength and balance. It peels Garlic beautifully has a comfortable handle and the blade cuts through everything as if it were butter.
Cons:
This Paring knife is not cheap don't expect much change out of $60, if you have the money and want to complete your knife collection then go for it!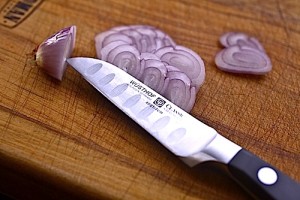 The Wüsthof classic 3-inch hollow ground paring knife is one of the more popular paring knives by Wüsthof and is a great little knife for more detailed integrate cutting tasks like peeling, trimming and even mincing fresh herbs.
The Wüsthof paring knife has a sharp fine edge that really makes slicing a breeze with its hollow ground edge that not only reduces friction when cutting but also ensure that every slice drops cleanly from the knife blade.
The Paring Knife blade is a high quality blade that has been manufactured and forged from a single piece of high-carbon stainless steel that resists stains and corrosion – it really is exceptionally sharp with long-lasting cutting edge that is easily restorable.
Also you will find that the Wüsthof paring knife comes with a unique compound angle not seen in many other knives on the market.
This compound angle slightly tapers from the spine of the knife towards the edge – this allows for a strudy and extremely sharp edge. The paring knife also tapers from the bolster to give a flexible yet strong paring knife.
>> Click here to see reviews, ratings, specifications and prices on Amazon <<
The Wüsthof classic 3-inch hollow ground paring knife features a visible full tang triple-riveted polymer African Blackwood style handle which is contoured for a comfortable grip as well as offering superior strength and balance.
Like all of the quality knives from the Wüsthof's classic series this Paring Knife will last for years to come if looked after and treated correctly – hand washing is recommended to prolong the life of the Paring Knifes.
Our Verdict:
This is a great Paring Knife from a quality knife manufacturer – the Wüsthof knives are some of the best you can buy and will last a lifetime if looked after correctly.
Wüsthof classic 3-inch hollow ground Paring Knife is razor sharp straight out of the package and fits into your hand nicely it really is a breeze to cut small items like Garlic. The knife blade is extremely sharp and cuts through most food items like butter.
Overall one of the best paring knives currently on the market – it's sharp, well made, and well balanced.  A must have for any professional chef or home kitchen.
Wusthof Classic 3-Inch Hollow Ground Paring Knife
Price: $59.95
(28 customer reviews)
17 used & new available from $59.95